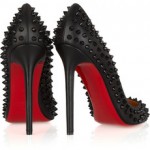 Though they gained a small victory when a Manhattan judge threw out evidence from Yves Saint Laurent's attorneys demonstrating a history of other companies using red soles, Christian Louboutin lost a far more important part of their lawsuit over YSL red-soled shoes.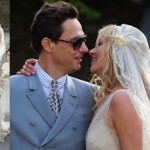 Aah, love and marriage. Sometimes they go together like a horse and carriage, and other times both fall off the wagon. This past weekend saw 2 royal weddings (well, Kate Moss is practically fashion royalty) and 4 divorces. While none of the divorcees are as cool as Jack White and Karen Elson, who held a rather civil divorce party, in at least one of the cases there will be some serious spending going on at the end of the love affair as well. Let's dive in.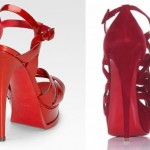 If you see a flash of red on the bottom of a woman's shoe, your first thought might be that those shoes are by Christian Louboutin. That's certainly what Christian Louboutin thinks your first thought will be, because they recently filed a lawsuit against Yves Saint Laurent in Manhattan which claims that "Defendants use of red footwear outsoles that are virtually identical to plaintiff's Red Sole Mark," and that the shoes "is likely to cause and is causing confusion, mistake and deception among the relevant purchasing public as to the origin of the infringing footwear."
Plus sized shoppers have been trying to let retailers know that an interest in designer clothes doesn't diminish relative to an increase in size for years. Now, it seems at least one has gotten a few high end fashion lines to listen up. Starting with this season's fall/winter collections, Saks Fifth Avenue will carry clothes from Chanel, Dolce & Gabbana, Yves Saint Laurent, Alexander McQueen, Fendi, Donna Karan, Valentino and Roberto Cavalli in size 14 – up to size 20 for some.
Today, Gucci Group head Robert Polet announced {AP via Google News} that Alexander McQueen, the brand, would continue after last week's suicide of namesake designer Lee Alexander McQueen. Polet described McQueen the man as "irreplaceable," a sentiment many would agree with. The prospect of continuing a label after a visionary founder unexpectedly leaves the company […]
A Facebook invite came chirping at our window this morning courtesy of Yves Saint Laurent. For a fraction of the label's normal price, New Vintage II is an environmentally-conscious project conceived by creative director Stefano Pilati to reintroduce popular styles from previous seasons, using left-over fabrics from the YSL archives. The ultra-chic recycled goods are […]