Facebook Bests Google For Most Visited Site, Kim Kardashian Gets More Searches Than Oprah
It's official, Mark Zuckerberg is having the best year ever. Hitwise released data today showing that the social network led by Time's Person of the Year has passed Google as the most visited site in the US. In what should come as a surprise to no one, a prolific pop star and an omnipresent reality TV star top the list of popular internet searches. Keep reading, we promise this isn't a leftover from 2009.
YouTube, which rose from 7th most visited site in 2009 the 5th most visited in 2010, helps make up the 9.85% of all US internet visits that Google properties claim. While Facebook hasn't surpassed total Google owned/controlled traffic yet, they aren't too far off at 8.93%. Yahoo!, often seen as the big engine that couldn't, still represents 8.12% of all US visits with their various properties including email, which is actually a more popular destination than the Yahoo! homepage.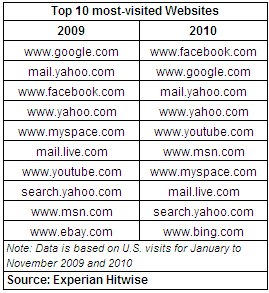 What surprised us though, is actually the site that traded places with YouTube: MySpace. The site is down off of last year's 5th place to number 7, but still ranking. Yes, we thought that everyone had abandoned the site with the strange new logo. Frankly, we were pretty sure the people running MySpace were abandoning ship when they seemingly threw in the towel and partnered with Facebook, but it looks like some of you just can't say goodbye to sparkly glitter gifs and 2001-style clip art.
Speaking of sparkly, glittering things, silver covered magazine mover Kim Kardashian edged out Oprah (who does a pretty good job of moving magazines also) for the title of top searched personality. Rush Limbaugh, Miley Cyrus and Glenn Beck are numbers 3, 4, and 5 respectively. That sounds like the start of a party game where you have to put random words into a sentence that makes sense. We'll let you know when we come up with one.
Moving on to musicians, butcher calendar girl Lady Gaga dominated searches and beat out the teenage endorsement dream that is Justin Bieber for number one music personality search. Eminem, Taylor Swift and late King of Pop Michael Jackson were 3, 4, and 5 respectively.