Forget I/O, the Pac Man 30th Anniversary Game is the Coolest Thing from Google This Week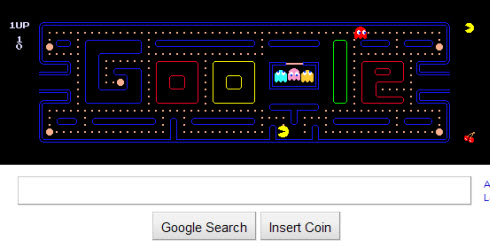 This past week Google made a number of exciting announcements at their I/O conference ranging from the new Android build (Froyo) to Google TV. But if you were on the sidelines at home, the most exciting thing to come out of Google this week may be their Pac Man 30th anniversary game that features the nostalgic favorite making his way around a Google maze.
Google has always had some pretty creative logos to mark historical events and occasions, but we have to say this takes the cake (or cherries).
"Insert Coin" has replaced the normal "I'm Feeling Lucky" button and is how you start the game. From there, old school gamers will be at home using the arrow keys on their keyboard to control Pac Man's direction. Younger people who've never known anything but the advanced 3D animations of current video games might feel slightly bored, but it's safe to say Google has probably had more people interacting with this logo than any other logos in the past.
To play the Pac Man 30th Anniversary game, just visit  the Google.com homepage.