Gourmet Magazine Revived for iPad Users – Just Don't Call it a Digital Magazine
The iPad will breathe new life into Gourmet magazine late this year when Condé Nast plans to unveil Gourmet Live, a free iPad application that will offer repackaged articles, recipes, menus and photos collected from the magazine in addition to new features such as videos, social networking tools and games. Paid content options will be introduced later as well as, potentially, user reviews and recommendations for restaurants. {The Huffington Post, NYTimes}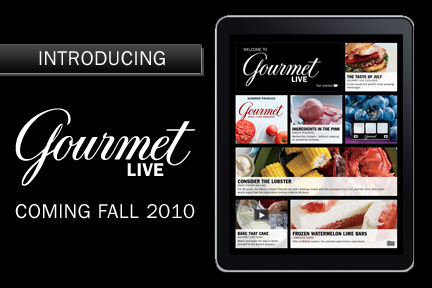 Condé Nast closed the doors on Gourmet last October, but President of Consumer Marketing for Condé Nast Robert Sauerberg said the brand was never completely shut down.
"By focusing on a new way to meet consumer needs, tap into our deep branding, and approach our content differently, we came up with a product that re-imagines Gourmet and revalues engagement," CEO Chuck Townsend said. "We are extremely pleased with the magazine apps we have developed as part of our R&D efforts, however Gourmet Live is profoundly different. We approached this like a tech company, utilizing the rich assets of a media company, keeping Condé Nast at the forefront of content innovation."
He said Gourmet Live aims to attract a younger, Web-savvy audience in addition to previous readers of Gourmet magazine.
Gourmet Live adds a twist to the future of magazines. Previously, it was commonly agreed upon that the future of magazines was on the Internet, but individual apps are a relatively new development.
What is most interesting is Townsend's statement that a technological approach was taken. He also said Gourmet Live is "not a magazine and it's not a digital version of a magazine." What is it then? If other magazines choose to follow the same path, will the word magazine and/or our current idea of what that is become obsolete in the future? We also worry about the quality of the content for such apps if technology is considered foremost in development, though the bright side is the potential for struggling publications to find new footing in the digital realm.