LivingSocial and Amazon's Big Deal
Groupon may be the clear leader in the group buying space, but Living Social is determined to be a solid number two. Amazon invested $175 million in the company in December, and it's taken all of a month for the two to pair up on what could be a record breaking group buying offer.
The 24-hour deal, which runs today, offers LivingSocial members a $20 Amazon giftcard for $10.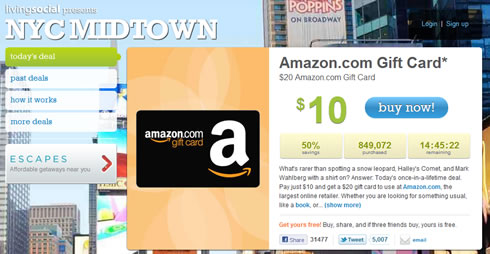 TechCrunch notes that it's unlikely most people will spend exactly $20, which would make it a winner for Amazon. Add to that, a $10 discount isn't steep enough to really cut into margins on most products and is probably about the amount most online retailers calculate when offering free shipping and it's a no-brainer for Amazon. For the math portion of this post: of the $10, Amazon probably only sees $5 since the split on most group buying deals is 50%, but with Amazon being a major investor the margins could be more favorable. Even if they aren't, we repeat the major investor portion of the statement for why this is a no lose situation for Amazon.
As for LivingSocial, the Amazon investment obviously helps in bending some of Amazon's rules. Most affiliate promoters of Amazon products are restricted when it comes to offering any incentives or cash back promotions, putting up a barrier that would be harder for copycats to overcome. Also, it's worth remembering that Groupon's Gap promotion where people got $50 credits for $25 was the company's most successful and brought in $11 million in a single day.
While the majority of the daily deals on any site are targeted to specific local markets, the power of a national promotion with a major brand is still the kind of thing that gets attention after one too many spa or yoga class discount offerings. With the sheer amount of stuff on Amazon, the low purchase amount and the fact that you really aren't likely to see the deal anywhere else, we wouldn't be surprised to see LivingSocial having a multi-million dollar day of their own today.
With 14 hours to go, nearly 850,000 gift cards have already been sold putting the total revenue close to $8.5 million. Figuring that they can continue to average 85,000 cards per hour (!), you're looking at about 2 million cards sold or $20 million.