In the Case of Louis Vuitton v. Google, Google is Victorious: Why Trademark Bidding is the Least of LVMH's Online Problems
Score one for Google, as the internet giant gets a favorable ruling from a European court in its 5-year legal fight with luxury goods maker Louis Vuitton and their parent company LVMH.
Louis Vuitton had asserted that Google's practice of allowing anyone to bid on trademarked names opened the door to the sale of counterfeit items. In the US and the UK, the system even extended the right to advertisers to include trademarked brands within their ads. So if you were to search for "Louis Vuitton", nothing would prevent Chanel from running an ad saying "Louis Vuitton is good, but Chanel is great." That's only an example, the luxury houses seem to have a gentleman's agreement to not bid on their rivals names, even if the practice is legal.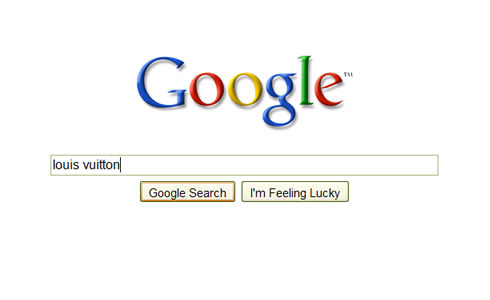 While the new ruling protects Google's ability to sell trademarked search terms, it does reverse a previous ruling which opened the doors to allowing advertisers to include trademarked names within search results. The European Court of Justice decided that advertisers who don't make it clear that they aren't commercially affiliated with the trademark holder can find themselves on the receiving end of a lawsuit from the brand.
This case settled trademark issues with paid search marketing,  but it also exposes the failings of Louis Vuitton and other brands when it comes to online reputation management and search engine optimization.
In US search results, all but two of the unpaid listings go to replica (read: counterfeit) sites. The two exceptions? The official Louis Vuitton site, and the brand's Wikipedia entry. With the recent headlines, news and shopping search results push anything beyond the 2nd organic listing down, and depending on location so too does a map. Since Google doesn't accept money for these algorithmically selected results, they don't have the same responsibility to police what the sites sell, but there's little doubt that the $219 purses offered at the second site listed are not authentic.
A closer look at the local results show that even there, replica sites are leading the listings. In the case of this local search result in California, they appear ahead of actual Louis Vuitton stores. In France, where trademark laws are more stringent and have favored brands more heavily, the results aren't as bad: only four of the top 10 results go to replica websites, and half of the top listings go to authentic Louis Vuitton sites or to LVMH's corporate site. The results in Germany, Italy and many other European countries are similar.
Even this, however, may simply be a matter of luck. If replica sites were ever to translate their content to target the approximately 5.7 million searches done outside the US, there's a strong chance that their search ranking success could be replicated in higher positions in more non-English language searches.
To understand why this is a failing on the part of Louis Vuitton, you have to take a look at other luxury brands who've made online marketing a cornerstone of their branding strategy. While Louis Vuitton hasn't exactly been sitting on the sidelines – Nowness, live runway broadcasts and other initiatives signal a real effort at strengthening their digital offerings, a look at more tech entrenched rivals show cracks in a strategy that does not consider organic search optimization.
Worldwide, Google puts the estimated number of searches for Chanel at 13 million, 9 million for Louis Vuitton and 6 million for Burberry.
Chanel, which only began selling beauty products online in recent years, and just announced plans to sell handbags online, is surprisingly strong in results. Local results show only actual Chanel boutiques, in the US, paid search ads direct users to authorized beauty retailers such as Saks Fifth Avenue, Nordstrom and Neiman Marcus. There are only 2 ads for replica websites, and of the 6 results that don't go to official Chanel websites, 4 point to information websites like Wikipedia, About.com (a biography on Coco Chanel) and the Purse Blog.
For Burberry, who has made a strong online effort with livestream broadcasts and social media via the Art of the Trench, the results are even better. A mere 3 sites in the top 10 results are not owned by Burberry. Of those 3, two (ShopStyle and Wikipedia) point back to authorized resellers. The paid search listings are dominated by retailers, like Net-a-Porter and the Outnet, selling authentic products and not a single replica website rears its ugly head on the first page.
So what should Louis Vuitton do to reclaim their results?
Put a strategy in place that recognizes branding does not conquer all, especially when it comes to search.
While shuttering eLuxury to focus on Nowness may have been an exercise in branding, it was a mistake as far as search. The top result for anyone looking for eLuxury is now a poorly designed counterfeit site, while eluxury.com still has thousands of links from people who haven't updated their list of authentic Louis Vuitton purchase points.
Partner up.
The only way Louis Vuitton will win the battle against counterfeiters is to embrace online partners who have a vested interest in promoting the brand. We can already hear the screams of terror about loss of control coming from luxury fanatics, but allow us to explain. Chanel, a company whose brand is as tightly controlled as any other luxury house, has done it through fragrance and beauty products. Bergdorf Goodman, Saks, Neiman Marcus are all selling the same goods, at the same prices. But it's in their best interest to ensure that fake bottles of Chanel No 5 aren't further diluting their opportunity at sales.
Louis Vuitton would be smart to explore distribution of sunglasses and small non-handbag accessories with online partners. eLuxury used to be that place for blogs and smaller websites, but Net-a-Porter, Saks, Neiman Marcus and many others could step in to bolster authentic distribution points without eating into market share for key items like handbags and luggage.
For Burberry, it's distributing content through multiple media partners – fashion blogs and general interest sites alike. Very likely part of the reason live.burberry.com, the home of the brand's livestream runway shows, appears in the top 10 results on a search of their brand name.
We understand the need to aggressively protect the brand against infringement, but all the trademark enforcements in the world will not be enough to replace an online strategy that fails to include search marketing at its core.