YouTube 2.0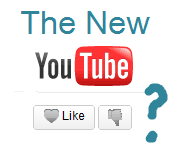 The next time you're avoiding work to go to YouTube and watch cute kitties or Single Ladies Gone Wrong, you may notice a few changes.
The Site has introduced a bunch of new features (on top of their forays into live cricket streaming and HTML5 support) AND a new redesign.
First up? Yesterday, the YouTube Music Discovery Project, or "Disco." Think of it as Pandora Radio with Video – you enter an artist/song, and presto! Or, rather, disco! Up comes your very own playlist that you can save for later.
Today, YouTube made available a new, cleaner version of the Site that viewers can opt into. With less clutter (although the same number of advertisements) and a Like/Thumbs Down icon (instead of those stars), the new YouTube is supposed to make for a more focused viewing experience. What do you think?
Then, starting tomorrow, January 22nd, YouTube will begin renting movies for $3.99 each. Now don't get too excited – so far, YouTube only has the rights to 5 independent films from the 2009 and 2010 Sundance Film Festivals. The Indies – "The Cove," "Bass Ackwards," "One Too Many Mornings," "Homewrecker" and "Children of Invention" – may not exactly be well-known, but we think it's pretty cool that they'll soon have such a wide-reaching platform. Plus, it's only a matter of time before the major studios follow suit.
Read More {TechCrunch}
Read More {Gizmodo}