Marvelous Macarons: Trend/Treat/Treasure

The it-dessert of the moment?
A delectable, crispy, colorful cookie with a gooey melt-in-your-mouth center known as the macaron (MAC-A-RON, or, if you secretly wish you were French:MAC-A-HRAWH). These guys are getting so popular, that even Starbucks is going to start selling them (although, after you've read this post and become a veritable macaron snob, you may want to avoid the crumbly Starbucks imitations).
While the spelling is similar to macaroon (those yummy coconut doodads you probably munched on as a kid), they couldn't look and taste more different. Macarons come in a variety of colors and flavors – but the one thing they have in common is that they all look too good to eat.
That is, of course, until you actually try one, and then any self-control you have will swiftly go away. If you've had one bite, you'll certainly want to get your paws on more – so here are our suggestions for ways you can satisfy those macaron cravings.
TREND: FOLLOW THE BLOGS
While you certainly could seek out macarons in every patisserie you come across, it's surprisingly difficult if you don't live in Paris. Of course, for the brave, there's always the option of making them yourself.
We know, scary. These little guys look about as simple to construct as a model yacht. And, to be honest, baking macarons is not like baking brownies (where you can follow any recipe and have yummy chocolate goodness in no time).
For some help along the way,we recommend the blogs of David Lebovitz, Tartelette, and Serious Eats for tips on perfecting your technique (which you'll definitely need to create these delicate cookies), inspirational recipes, and some serious, mouth-watering food porn.
TREAT: BUY THE BOOKS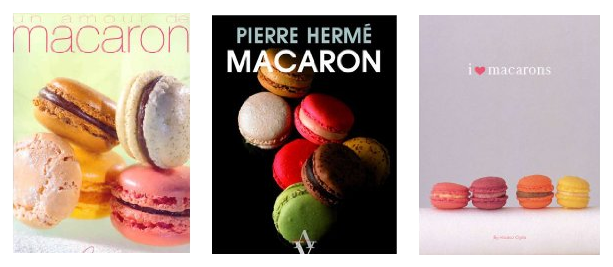 If you want to take a lesson from the macaron masters, I'm afraid you're going to have to brush up on your francais.
Pierre Hermé, generally considered the leading expert on the macaron, is the author of the aptly titled: Macaron (€29, approximately $40 on Amazon France). His book is the one you want if you're serious about your macaron making. You could also check out Un Amour de Macaron (A Love of Macarons – €36, approximately $52 on Amazon France) by Stephane Glacier.
Of course, if your French never progressed beyond the level of "Quoi?" there's  I Heart Macarons by Hisako Ogita – the newest entry into the world of macarons cookbooks and the hottest little pastry book on the market. Oh, and even better? It's under $11.
TREASURE: TRUSTÂ THE PROFESSIONALS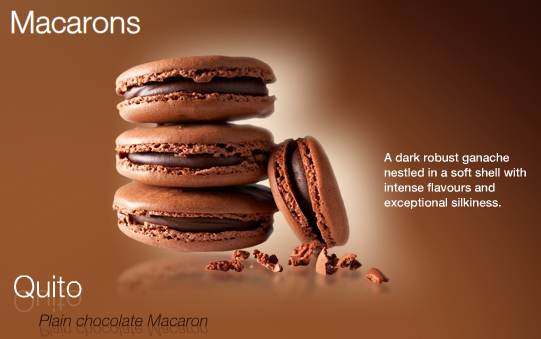 For the culinary disinclined, it's probably best to leave these ambitious pastries to the professionals. You'll have to spend a fair chunk of change, but the return will be oh so delightful.
Outside of Paris or Tokyo, the best place to pick up a Macaron is New York City – but only at La Maison du Chocolat. Feel free to stock up while you're there – but make sure you don't wait too long to eat them. These cookies are meant to be savored when they're fresh.
Of course, if you're shopping at La Maison du Chocolat, chances are you wouldn't be able to wait even if you wanted to.
TORTURE: When Only An Original Will Do
Finally, let's say the blogs and cookbooks weren't enough: you tried and ended up with a baking sheet of goop (not the trendy Gwyneth kind). La Maison du Chocolat sounds delicious, but a blizzard snows all over your hopes of making it to the city. And you're an unabashed French dessert lover who likes your macarons Parisian, or Blair Waldorf. You're on your own for getting your goodies from the City of Lights to your doorstep – none of the shops deliver to the US. But barring a Chuck Bass in your life, FedEx International will usually do the trick (pickup before 2pm will have them at your doorstep the next day).
Name dropped on Gossip Girl as Blair's favorite, Ladurée offers the basics – chocolate, vanilla, coffee – as well as a number of seasonal flavors. And they've got a hypnotizing series of macarons that dance across your screen at their dedicated macaron page. For a shop with a lower profile, Dalloyau got their start in 1682 and have had a retail presence in Paris since 1802. Though there's not a lot of diversion from the chocolate, vanilla, pistachio and raspberry flavors common in France, we can vouch from first-hand tasting that there's a good reason why they've lasted as long as they have.
But for the type of treat that would make you seriously consider flying these little lovelies in, there's the aforementioned Pierre Hermé's macarons. The website is a bit of a challenge to navigate – the British flag at the top only translates a portion of the site (thus proving it is indeed French), but images from the product catalog will tempt you regardless of language. There's a savory macaron that mixes a chestnut biscuit outer, with a mascarpone black truffle center, and enough chocolate/macaron mashups to secure Herme's place as master of the modern macaron.