Sweet! Pierre Hermé's $9000 Macaron Day
In case you missed it, we're pretty big fans of the colorful little French cookies called macarons (click the link if you're wondering where the coconut confections are). And it's well established that when it comes to macarons, Pierre Hermé is a modern master.
How amazing would it be if he decided to give away free macarons? Well, last month lots of people stood in lines wrapped around the block to find out. For the 5th year, Hermé offered up his full range of macarons for free, in exchange for a parting donation to benefit two charities. The generosity brought in over €7000 (roughly $9300 at today's exchange rate) for Alliance Maladies Rare and Autours des Williams. Both charities support research into rare diseases.
In addition to the charitable contribution, the day also encouraged attendees to give unique flavors like strawberry wasabi and strawberry balsamic vinaigrette a try. "Free Macaron Day was a great opportunity to experience the vast array of flavors and styles from the different macaron makers throughout Paris," says Jas Ford, who visited two of the participating stores. "As someone that usually sticks to the standard flavors, I had the chance to try some of the more exotic ones all while helping out a great cause."
While Pierre Herme wasn't the only participant – Sadaharu Aoki and Jean-Paul Hevin also ran specials, they were certainly the most generous. The lack of lines, and €3 for 3 macaron offer at Sadaharu Aoki (including one of the Japanese-French baker's delicious chocolate covered macarons) was best runner up. Trying a chocolate covered raspberry or blueberry macaron was a requirement at Aoki , but a smart move. While visually enticing, it didn't hurt to have encouragement to try the bakery specialty. The offer at Jean-Paul Hevin was so tightly restricted (only chocolate and one other flavor were included in the day's fundraiser) that it made it easy to pass by.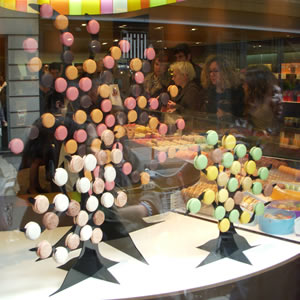 First time attendees (that includes us) received the pleasant surprise of a macaron treasure hunt that encouraged – yes, engouraged! – Free Macaron Day visitors to pick up various flavors at multiple Hermé locations. While we prepared for disapproving looks from weary store employees looking at a growing bag of free macarons, we got exactly the opposite. Despite lines that stretched around the block at every single store, employees were upbeat and pleasant from store to store, discarding broken and cracked macarons that displayed any hint of imperfection, passing out large bags to accommodate growing sweet collections and ended each giveaway with a smile. And the reward for collecting perfect macarons from pleasant people? An enormous box of 35 macarons valued at €68 (about $90). Towards the 5th location, it was easy to let visions of that box dance around in our heads for an extra bit of motivation. Among the flavors that drew us to continue the trek to the end were Rose Raspberry Litchi, Peach Apricot Saffron, Rose Quince, Passionfruit Chocolate and Cherry Pistachio.
For anyone who knows the chaos that anything with the word "free" attached can bring, the attendees were also extremely well behaved. There was no pushing, jostling or hostility, even at the Publicis drugstore location which remains open until 10pm – the latest of all the locations, and the one which took in most of the last-minute macaron hunters.
Walking between some stores, taking the Paris metro between others took about 7 hours. While it was a great way to see Paris, the smile and enormous box of macarons (bringing the total tally to 59 macarons – stops at each of Hermé's locations, plus 2 of Aoki's) made the tired feet at the end of the day worth every minute.