Yum! National Donut Day 2010 Means Krispy Kreme and Dunkin' Donuts Freebies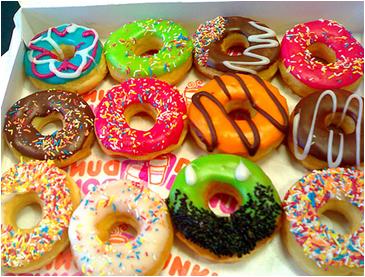 While we're still a bit partial to Free Macaron Day, National Donut Day 2010 looks like it will be a worthy competitor.
The biggest names in donuts – Krispy Kreme and Dunkin' Donuts, are only 2 of many donut makers participating in the 72-year-old event. The first Donut Day took place in 1938 and honored the women who served donuts to soldiers in World War I. Started by the Chicago Salvation Army, the fundraiser is still one of the organization's most popular events.
If you're in Chicago, Donut Day taggers will collect donations to benefit programs that feed children, seniors, the homeless and needy families in the Chicagoland area. And if you're not in Chicago? Well, just enjoy the free donut, and in the spirit of the day think about giving one to someone else.
Participating Donut Locations
Krispy Kreme
The offer: a free donut. No coupons, no other purchase necessary (though we're sure you won't be able to resist buying an extra one).
Alabama, Arkansas, Arizona,California, Colorado, Washington, DC, Florida, Georgia, Iowa, Idaho, Illinois, Kansas, Kentucky, Louisiana, Maryland, Michigan, Missouri, Mississippi, North Carolina, Nebraska, New Mexico, Nevada, New York, Ohio, Oklahoma, Oregon, Pennsylvania, South Carolina, Tennessee, Texas, Utah, Virginia, Washington, Wisconsin and West Virginia
Download the list with addresses and phone numbers here [PDF]
Dunkin Donuts
The offer: a free donut with any beverage purchase
Locations Nationwide. Search for a store near you here
Super Saver supermarkets
Stores in Eastern Nebraska and Western Iowa will participate in the event by giving away a total of 500 freshly glazed donuts. {MSMDC News}
Seattle
Microsoft's homebase doesn't have a nearby Dunkin' Donuts, but there is a Krispy Kreme and even better, local bakeries joining in. Mighty O Donuts follows the Krispy Kreme offer – just show up to claim your donut, while Top Pot Doughnuts will give you a free donut with coffee purchase. {in North Seattle}