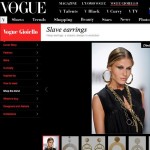 Vogue is a brand that has plenty of experience with insensitivity: American Vogue published a puff piece on the Syrian first couple just as uprisings in North Africa and the Middle East were heating up, French Vogue published a blackface editorial and a piece with children dressed and made up as adults (the latter may have been behind Carine Roitfeld's departure), but we've always held out a bit more hope for Vogue Italia.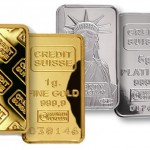 Remember when Eartha Kitt asked Santa Baby for the deed to a platinum mine? This Christmas, you may want to revert your wishlist back to the gold standard if current trading conditions continue through to December.
Today, the price of gold reached parity with platinum, pushing the value of the fine jewelry metal to a level not seen since 2008. It hit a record high of $1715.29 per troy ounce following the downgrade of the US government's credit rating by Standard & Poor's as investors looked for a safe haven alternative to more volatile stocks. Platinum, which hit a low of $1703 per ounce, doesn't get the same boost as gold because it's largely seen as an industry product while gold is also seen as something of a monetary instrument.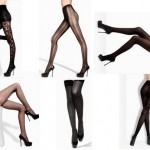 Celebrity endorsement? Check. Pop culture collaborations? Check. Duchess Kate and her sister have been doing their part to bring hosiery back into style, and now DKNY has teamed up with Gossip Girl stylist Eric Daman for what is (we're fairly certain) the first designer capsule hosiery collection.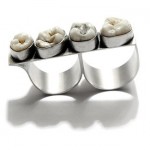 And we were weirded out by the jewelry that looks like little human bones. If gold and silver vertebrae don't satisfy your fascination with kinda creepy accessories, you can now sink your teeth into a piece of jewelry with real bite. We're not kidding – it's a ring made of actual human teeth. Or, a necklace with human hair thrown in if you're not sure about rings, but absolutely want in on some toothy adornments.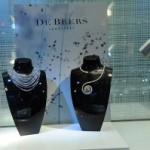 Last week at their Manhattan flagship location, De Beers Diamond Jewellers celebrated the launch of their new and incredibly in-depth website, Debeers.com.
The event was intimate and insightful, as we toured through each collection, the new website and a viewing of their one-of-a-kind patented technology, the De Beers Marque.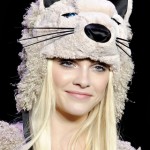 Last Wednesday at Lincoln Center, Sui sent a few models down the runway in giant cat hats. Purrfect, or one trend you won't take a scratch at?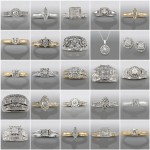 If you're keeping up, you may recall our coverage on Vera Wang's new line of bridal jewels. Excited? Us too. This week another wedding gown designer is adding an affordable line of those timeless symbols of love to his repertoire. We're talking about bridal designer and celebrity wedding planner, David Tutera. He has launched his premiere collection of designs for brides-to-be, but this time he's swapping satin for sapphires.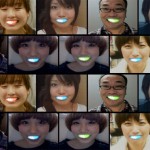 When the Japanese came out with anti-aging goggles, we didn't really see them catching on as a worldwide trend, but the latest fashion accessory to emerge in Japan may just be the next big thing, especially among celebrities like Marilyn Manson, Method Man and Kanye West.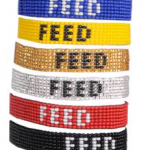 A stroll through Forever 21 boutiques reveal baskets, upon racks, upon displays chock full of cute accessories that are as adorable and versatile as they are affordable. Just in stock for the busiest season of the year is the result of the brand's most recent partnership with the United Nations World Food Program.