Envelop // State of Independence
Scenario 1: You're most happy when you discover a unique and fabulous treat from a well-hidden store (or amongst the chaff of cyber space).
Scenario 2: Â You're an unknown designer/illustrator with amazing talent – but no place to put it.
Where do you two meet? At Envelop, an online store that takes independent designers' amazing illustrations and plops them (in an eco-friendly manner) on to 100% cotton textiles. From aprons to pillows, tote bags to pot holders, every item is 100% custom designable and 100% off the beaten track.
We couldn't leave you without our picks though! Here are some of our favorites for your decorating/toting pleasure…
Classic Romance for the Dining Room:

Napkins (left and right) by Illusive Print. Place Mat (center) by Alli Coate.
 
Funky Color for the Kitchen

"Plums" Apron (left) bySarah Palisi. Oven Mitt (center) by Pierpaolo Febbo. "Rooftops" Apron (right) by Sanne van Winden.
Terrific to Tote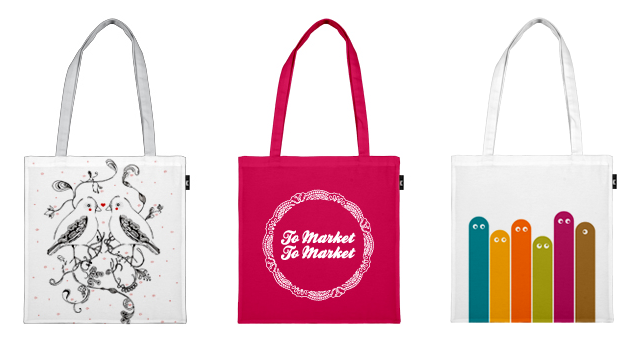 "Love Birds" Tote by deciphertheday. "To Market, To Market" Tote by komraids. "The Weirdo" Tote by siebe.