Quick Kitchen Fixes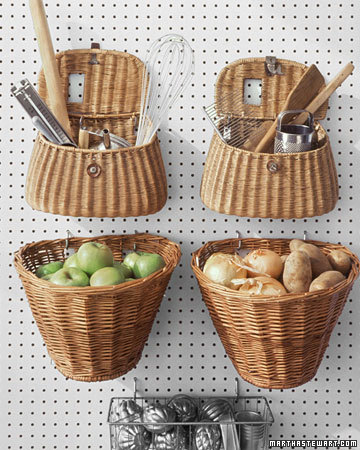 If you're planning on making a Christmas feast this year (but want to avoid the mayhem that traditionally accompanies said feast), then it's time to arm yourself for battle with a well-oiled and organized kitchen.
Of course, if you have a teeny tiny kitchen and tons of stuff, organizing is no easy feat. Luckily, Design*Sponge has come up with a few tricks to make organizing a breeze – including this beautiful suggestion (pictured left) from Martha Stewart Living to hang bicycle baskets from a pegboard.
And don't forget to stock up on those vital kitchen tools before it's too late! Check out The Kitchn's Roundup of Holiday Gift Guides for ideas for you or your loved ones.
And once your lil' kitchen is armed to the hilt, you can at least be thankful that the clean-up should be a little easier in a small space – make sure you check out our post on how to make the washing-up just as chic as the dinner itself.
Read More {Design*Sponge}
Read More {The Kitchn}