How to Save 90% in Your City: 5 Sites for Local Steals
You've probably heard of online coupon sites that give you daily deals to save money, but the newest frontier on online shopping offers a little something extra. If you couldn't take the crowds on Black Friday, and couldn't click fast enough to make it through all the options available for Cyber Monday, these sites offer can't miss local specials year round.
These coupon 2.0 sites all operate on a very similar premise: the "tipping point." They understand that, in these recessionary times, consumers aren't just looking for deals – they're looking for killer savings. They also understand that companies aren't going to slash their prices unless they're guaranteed a slew of customers to make it worth their while. The result? Online shopping that harnesses the power of collective buying to get you the best possible price around.
Here's how it works. These hyper-localized sites negotiate an amazing deal with a restaurant, salon, dance studio, driving range, etc., near you. For a limited time frame, they offer the deal on their site. As soon as enough people commit to buy – and the "tipping point" is reached – the deal is on. And you just got a coupon for 50, 60, even 90% off that you can redeem at your leisure.
Sound good? Well, we won't leave you with all that new found knowledge without telling you how to put it to good use! We've found the best of the collective buying sites and ranked the top 5 according to the number of locations, time frame, average savings, and (very scientifically) general coolness factor.
| | | | |
| --- | --- | --- | --- |
| Locations | Time for Deal | Savings | Coolness |
| | | | |
It may not be the sexiest site, but CoupMe does have one feature that sets it completely apart. Every month, 5% of its profits go to a different charity. So while CoupMe is on par with your typical collective buying site (50% savings, a 24 hour time frame) and is only based in Boston, this is the only site to go to if you want to make a purchase for a cause.
| | | | |
| --- | --- | --- | --- |
| Locations | Time for Deal | Savings | Coolness |
| | | | |
Available in Boston, New York, and Washington D.C., Living Social is a site for the kind of person who has over 400 Facebook friends (come on, can you really know that many people? really?). Brought to you from the people who created LivingSocial, a site that lets you rank, review, and share your favorite finds with your friends, LivingSocial Deals hopes to harness the power of their social network to sustain their deals. While the savings are above-average, hovering at about 55% off, the real steal is the free deal you get when three of your friends buy!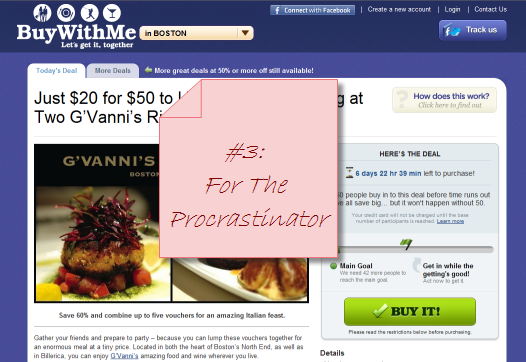 | | | | |
| --- | --- | --- | --- |
| Locations | Time for Deal | Savings | Coolness |
| | | | |
If you're the kind shopper who finds yourself getting heart palpitations at the strangely pressuring prospect of a 24 hour time frame, then check out BuyWithMe. With deals that can last up to a week, BuyWithMe gives leisurely (read: horribly indecisive) shoppers in Boston, San Diego, and Washington D.C. the time to ponder if this deal's truly right for them.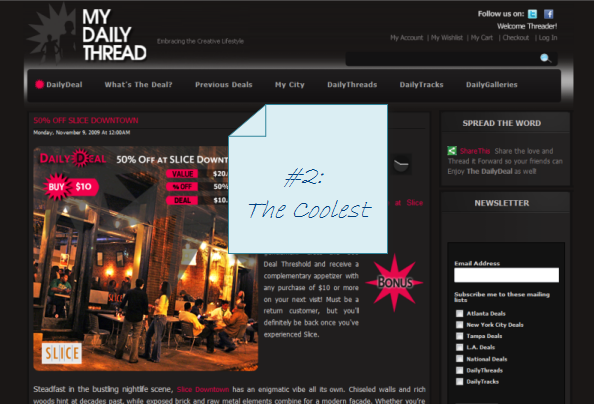 | | | | |
| --- | --- | --- | --- |
| Locations | Time for Deal | Savings | Coolness |
| | | | |
What MyDailyThread lacks in number of locations, it makes up for in awesome savings and cool editorial content. With its Atlanta-based companies carefully chosen and featured with in-depth reviews from the MyDailyThread writers, you get deals that are only to places that truly embrace "the creative lifestyle." Plus, with an average savings of about 60% off (the highest average we came across), you know that you're guaranteed to have a great time – for a whole lot less.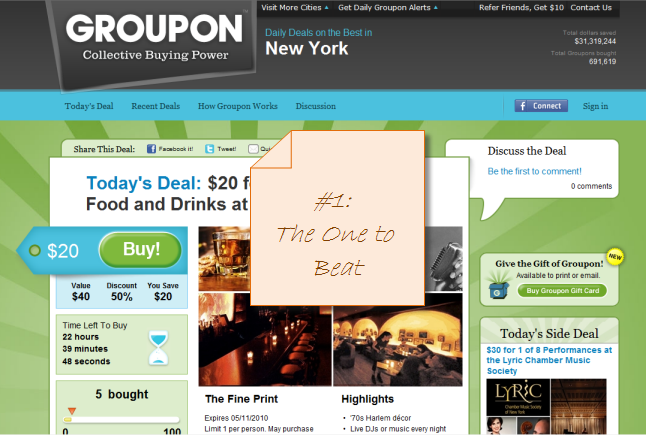 | | | | |
| --- | --- | --- | --- |
| Locations | Time for Deal | Savings | Coolness |
| | | | |
Available in a whopping 35 cities, chances are that a Groupon is available to use at a store near you. Groupon was the original collective buying site and has grown exponentially since it started in late 2008. As a result, they're getting better and better companies to spotlight with deals at better and better prices. With a cool, easy-to-use site and above average savings, Groupon is the site to check daily for the best and most varied deals across the country.
Read our in depth review of Groupon, with feedback from business owners and CEO Andrew Mason's most memorable deals.