Huma Abedin and Anthony Weiner 'Will Weather' Lewd Twitter Pics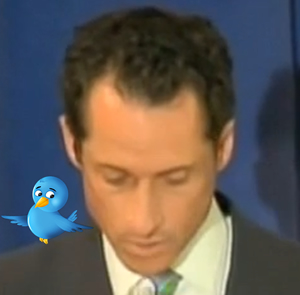 After days of denying reports that he tweeted a crotch shot, Congressman Anthony Weiner (D-NY) admitted that he did tweet the photo, though it was intended for a private direct message. Apparently, this wasn't the first time he'd sent suggestive photos to women – who he often met through social networks like Twitter or Facebook.
We covered Anthony Weiner's wedding to Huma Abedin, which took place during a particularly celebrity wedding heavy week last July, and in a tearful statement today he apologized to Abedin for his suggestive tweets but maintained that they would weather the current storm and "have no intention" of splitting up over the matter.
Abedin is an aide to Secretary of State Hillary Clinton who has been profiled in Vogue for her style, and Bill Clinton officiated at her wedding. We'll let you draw the parallels if you'd like, but it is worth noting that there's nothing that indicates Weiner's messages were illegal or that they violated any Congressional rules. Weiner says his Blackberry is not government issued, and all sexting took place on his own time. Nonetheless, an ethics investigation will be conducted, which Weiner says he welcomes.
Regardless of which side of the aisle you're on, can we suggest some unofficial guidelines for social media usage by those in the public eye? Actually, we've only got one: if you wouldn't want everyone to see it, don't send it. To anyone. In case the numerous shouts about online privacy haven't tipped you off, the internet isn't actually all that secure, and files transmitted through it aren't either. You never know who's really on the receiving end or viewing at some point in between.