David and Victoria Welcome Harper Seven Beckham, Who May Follow In Suri Cruise's Footsteps
Over the weekend, the fashion designer formerly known as Posh Spice (Victoria Beckham) gave birth to a 7 lb. 10 oz. baby girl named Harper Seven. She joins unusually named siblings Brooklyn, Romeo and Cruz, but is Victoria and David Beckham's first girl.
There's no word on where Harper came from – though it seems perfect for selling exclusive baby picture rights to Harper's Bazaar – but Seven is for David Beckham's old Manchester United jersey number. Or, the Beckhams are big Erykah Badu fans (she has a son named Seven).
Either way, we're sure Suri Cruise is going to have some fierce competition for best dressed toddler in a few months. The Daily Mail reported that little Harper has a pair of custom made, red-soled Louboutin baby booties waiting for her and a mini closet  full of designer onesies, but the story has since gone missing (you can still read a hilarious recap at DListed). Which means it's not certain that Harper Beckham will be next in our awkward stages of girlhood trend watch, but when your pre-arrival photos look like this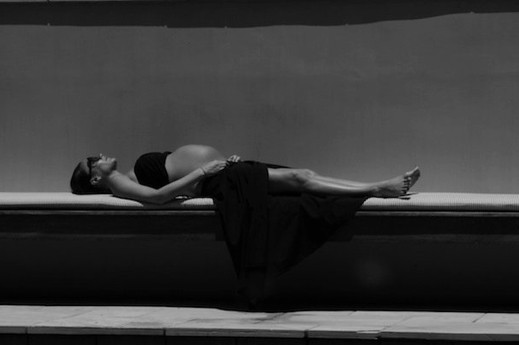 it's pretty much a given that stepping up the glamour is a requirement, even if you can't actually walk.