Prince Albert II of Monaco's $65 Million Wedding, The $400 Million Schwarzenegger Divorce: The Holiday Pairing and Parting Roundup
Aah, love and marriage. Sometimes they go together like a horse and carriage, and other times both fall off the wagon. This past weekend saw 2 royal weddings (well, Kate Moss is practically fashion royalty) and 4 divorces. While none of the divorcees are as cool as Jack White and Karen Elson, who held a rather civil divorce party, in at least one of the cases there will be some serious spending going on at the end of the love affair as well. Let's dive in.
Pairings
the Kate Moss & Jamie Hince Wedding
We'll start with some good news. Perennial supermodel Kate Moss married longtime rocker boyfriend Jamie Hince of The Kills in a 1920's style unstructured John Galliano gown that's drawn mixed reviews. The groom wore custom Yves Saint Laurent by Stefano Pilatti, as did his best woman Alison Mosshat. Vogue UK reports that Galliano did attend, though he was understandably camera shy. We all remember what happened the last time cameras caught surprise revelations from the former Dior designer, so hopefully there was some non-alcoholic sparkling cider available for him to toast the couple with.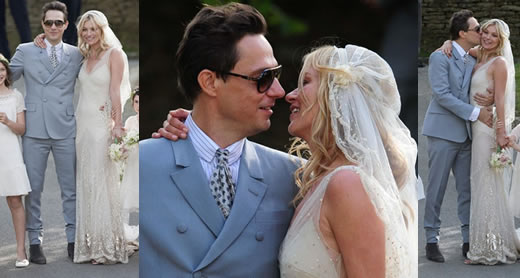 After the wedding, the bride changed into a white 3-piece Stella McCartney pants suit as she and the groom hopped on a helicopter to embark on their honeymoon. McCartney was also in attendance.
The festivities cost a reported £1 million (approximately $1.6 million), and the guest list also included fellow supermodel bestie Naomi Campbell, a bevy of Vogue editors past and present (Anna Wintour, Emanuelle Alt, Carine Roitfeld), newlyweds Lara Stone and David Walliams, Daphne Guiness, Marc Jacobs, Kelly Osbourne and Jude Law.
Sounds like the ultimate bridal fashion show.
the Prince Albert II of Monaco and Charlene Wittstock Wedding
Then we get to the only wedding that could force Kate Moss to change her wedding date. A number of the fashionable guests for Moss' wedding were also invited to the wedding of Prince Albert of Monaco and Charlene Wittstock (now, Princess Charlene).
The reported$65 million budget makes the Kate Moss affair seem positively low key, but considering the fact that the Prince and Wittstock actually had two weddings, and invited all 30,000+ of Monaco's residents to take part in some part of the festivities, maybe it's relatively reasonable. For the record, two weddings is actually common in France, where a civil ceremony is required before a religious ceremony is recognized.
In spite of rumors that Wittstock was considering becoming a runaway bride *three times* amid new paternity tests for Prince Albert (the groom already has two children out of wedlock, and is reported to have fathered two more while dating Wittstock), the couple made it through the official state marriage, and onto a balcony where they shared an awkward kiss.
For their civil ceremony, the bride wore a light blue Chanel suit, and for their church ceremony a custom made Armani Prive gown. The dress featured a 5-meter train, and was studded with crystals and pearls.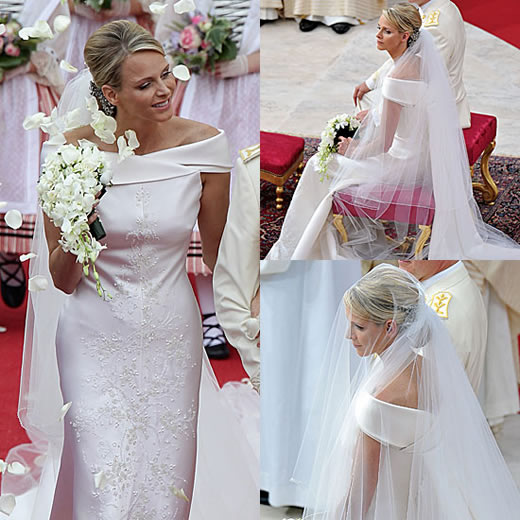 Guests included, um, all of Monaco (see previous note), Prince Albert's ex-girlfriend Naomi Campbell (who had a wedding filled weekend), Karl Lagerfeld (who designed the blue Chanel suit), Giorgio Armani (who designed the wedding dress), French President Nicolas Sarkozy and wife Carla Bruni, as well as too many princes, princesses, kings and queens of various countries to mention individually. There's no agreement on whether any of Prince Albert's children or their mothers were in attendance. The palace says no, rumors say his daughter, Jazmin Grace, and Nicole Coste, mother of his son Alexandre, were somewhere amid the well-wishers.
Congratulations to all the happy couples, and good luck to any who aren't so happy. No names.
Partings
Now for the partings. Because sometimes wedding diamonds aren't always forever, for every spectacular celebrity wedding this weekend, we got two spectacular celebrity divorces.
the Arnold Schwarzenegger and Maria Shriver Divorce
The Monaco Royal wedding may take the crown for scandalous and excessive weddings, but leave it to Hollywood royalty to show 'em how it'd done when it comes to scandalous and excessive divorce! Maria Shriver officially decided to terminate her marriage to the Governator, and filed for divorce citing irreconcilable differences. Which was kind, considering she could have cited messing around with the maid.
The couple will split an estimated $400 million, and custody of their minor children. In total, they have 4 children. If you're trying to do the math, that's enough for 1.5 royal weddings for each of them, should there be any eligible princes or princesses.
the Scarlett Johansson and Ryan Reynolds Divorce
After just 2 years of marriage, the ink is dry on the divorce papers for Scarlett Johansson and Ryan Reynolds. The split was reportedly amicable, with neither seeking spousal support. Probably not easy, but at least it was quick.
the Thomas Jane and Patricia Arquette Divorce
"Hung" star Thomas Jane and former "Medium" star Patricia Arquette also made it official, and sealed the deal on a divorce. There's a joke about seeing this one coming somewhere in there. The couple will share custody of their 8-year-old daughter. Their marriage lasted approximately 3.5 years. In Hollywood marriage years (sort of like dog years), that's almost 15 years.
the George Lopez and Ann Serrano Divorce
Then there's late night comedian George Lopez and wife Ann Serrano, who are calling it quits after 17 years of marriage. They share one minor daughter, and thanks to a life saving donation from Serrano, they share the same kidneys as well (obviously, Serrano has one, Lopez has the other). Fortunately, the couple is trying to keep things amicable on both fronts.
Can you imagine how messy things would be if Serrano filed to get custody of her kidney back? Awwwkward.