The Carstache Car Mustache: If Everyone Jumped
Apparently most cars on the road are naked. At least, Carstache thinks so.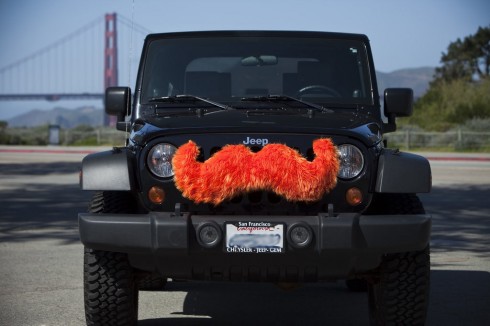 What is Carstache, you ask? It's a mustache for your car. Yes, if you've looked at Tom Selleck, Burt Reynolds or any other famous mustachioed man and thought "why isn't there a car accessory that will give me the same kind of '70sn mustachioed cool?" look no further. This week, Daily Candy tweeted a link to the Carstache Web site, which describes the company as "the undisputed global leader in automotive facial hair, delivering the industry's most luxurious in car mustaches." The site also says the Carstache is a vehicle accessory that is meant to be silly and fun for "events and special occasions" like tailgating, weddings, Halloween, bachelor parties, birthdays, Father's Day and Bar Mitzvahs.
Carstache, which is located in San Francisco, has had car mustaches on the market since April 2010. We just can't imagine why more people haven't hopped on this bandwagon yet…
We do appreciate Carstache's attitude, since the product is meant to make people laugh, and if you don't have any hipsters in your area (or don't actually want to hang out with the hipsters in your area) it's not the worst way to celebrate the mustache trend. Unless you work in the adult industry or for American Apparel (close enough) we wouldn't recommend driving to the office with a furry accessory on your bumper though.
You can "Get 'Stached" for about $40 at carstache.com or at any of Carstache's retail partners including Spencer's Gifts, Urban Outfitters and Hot Topic. The Carstache is weather tested, comes with rubber attaching wires and is available in a variety of colors, the names for which are really clever (Wisdom Grey, Firestache Orange). Another benefit: if you're in an area where car theft is a problem, silly as this mustache looks it might be a good way to get would be auto thieves to sniff out another target.