White House/Green Christmas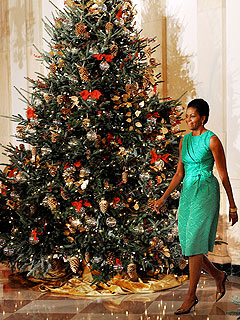 Like many families trying to cut costs and think green this Christmas, the Obamas have decided to eschew the traditionally opulent decorations of White Houses past and go for a subtle, stylish look this Christmas season.
Instead of ordering mass quantities of ornaments and trees to deck the White House halls, the First Lady decided to dig around the Presidential basement, re-use the 800 or so ornaments from previous administrations, have 60 community groups bedazzle them with local flavor, and then decorate according to the theme: "Reflect. Rejoice. Renew."
While you may not have 800 ornaments in your basement (at least, we hope you don't), this holiday season is the perfect time to take a leaf from the First Family's book and "renew" and recycle your old decor – all in the name of good taste and green living, of course!
Read More {Earth911.com}
Read More {People}