Will Social Media Bring Barbie Back to Ken? Spoiler Alert: Yes
Back in 2004, plastic couples everywhere shouted "if they can't make it, what hope do any of us have?" when longtime paramours Barbie and Ken called it quits. Ken blamed it on Barbie's indecisive nature (really, how many careers can a doll have?), Barbie just wanted to have the freedom to flirt with Christian Louboutin, drink with Don Draper and celebrate her 50th birthday unencumbered.
According to Mashable, a few years apart has only increased the fondness. Just in time for Valentine's Day – and Ken's 50th birthday – Mattel has kicked off a large marketing campaign designed to reunite the two.
Visitors to Barbie and Ken can cast a vote on whether the two should get back together, and Ken and Barbie are all over Twitter, Foursquare and Facebook inviting you to get in on the action.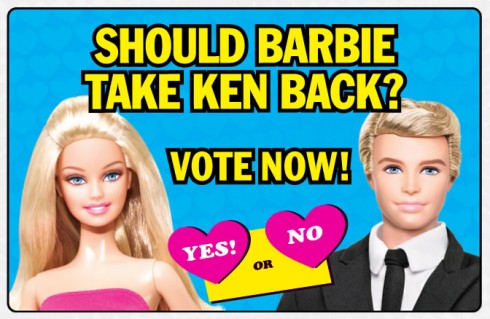 Mattel's gone all out, creating a special web series on Hulu called "The Search for Genuine Ken," taking out billboards in New York and LA and doing everything they can to get you involved in Ken's efforts to woo the world's most famous doll back to his side. The only thing missing is a (G-rated) Nikki Minaj tie-in.
You probably won't be surprised to learn that the efforts will be successful.
A reader at Mashable shared this photo of a coupled up Barbie and Ken at Target. Whoops.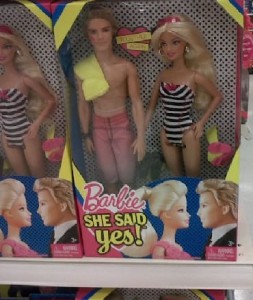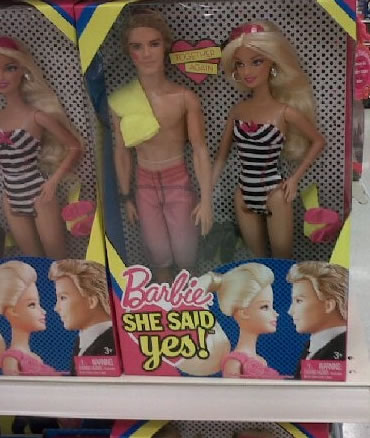 Unless there's a second shelf with Ken hanging out with new buddies Don Draper and Roger Sterling – stiff drink, cigarettes and sad apartment accessories included, for the "She Said No" package, it looks like a few stores may not have gotten the memo on timing.
It's doubtful that it will cause too much damage though – the campaign is pretty cute, and more original than just releasing a heart covered Barbie. Meaning it's exactly the kind of thing that will stick with people even if they're in on the happy ending in advance.