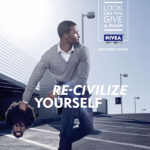 Nivea came under fire yesterday for an ad with a black man throwing out a head with longer afro hair and full beard. The image was part of a "Look Like You Give a Damn" campaign for Nivea for Men. The problem? The "re-civilize yourself" tagline struck many people as racist when positioned over a black model. A similar ad with a white model reads "Sin City Isn't an Excuse to Look Like Hell." The white model also holds a head with long hair and a full beard.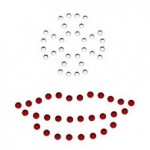 You may have heard of vajazzling – the inexplicably popular practice of women decorating their bikini areas with Swarovski crystals. Apparently, some men out there have been so dazzled by the shining nether regions of their ladies that they're getting in on the bejweled action.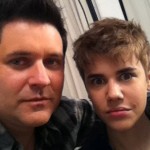 In today's breaking men's hair news, taking a few inches off seems to be the new trend.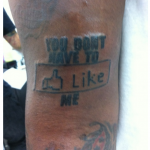 Sigh. Another day, another tattoo that should never have gone beyond the temporary variety.
The latest in our ongoing series of Tattoos You Will Regret comes courtesy of singer/rapper T-Pain, who took Facebook's like button beyond the web and onto his arm.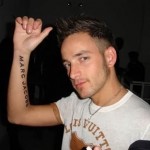 We know that temporary tattoos had a bit of a moment last fall, and we liked seeing Adam Levine's real ones as much as anyone, but can we officially declare brand tattoos one step too far?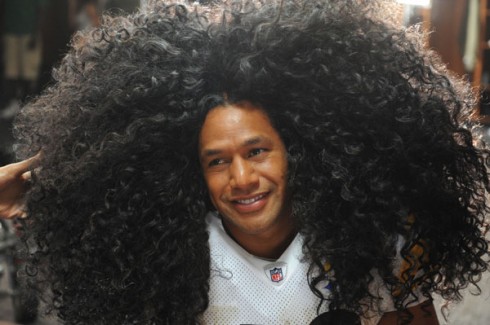 Forget New York or Milan, if you're looking for truly special grooming inspiration start with the multi-talented follicles of the Pittsburgh Steelers. You may remember Troy Polamalu for the $1 million insurance policy Head and Shoulders took out on his locks, but you may not be aware that Polamalu's hair is so multi-talented that it maintains a Twitter account (@TroysHair) with more than 1900 followers and a Facebook page with more than 1500 fans.

First Gerard Butler is picked up by L'Oreal to convince men that they're worth it, now comes news that football player Troy Polamalu has had his 35″ long hair insured for $1 million by Head and Shoulders (Polamalu is a spokesperson for the brand). To give you a little perspective on how much more valuable Polamalu is with a follicle to follicle comparison, a pack of 16″ long human hair sells for $70 on Amazon. If you went hair crazy and covered your hair with 20 of those, it would add up to $2800 – or about 3% of what Troy Polamalu's hair is worth.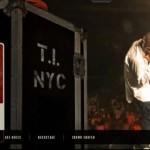 "Axe is all about being a guy's wingman and helping him as he navigates the mating game." -Mark Dwyer, Unilever marketing director
As Gawker commenters point out, a true wingman would probably encourage less Axe, but the brand is finding success with the strategy. Once the 18-24 target crowd finds out that mating means babies, we're not sure if that's the game they'll want to play, but trading off of the prospect of heightened romantic interest has made Axe products a category leader.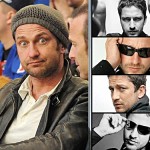 Scottish lawyer-turned-actor Gerard Butler is the new worldwide spokesperson (sans the U.S.) for the L'Oreal Paris Men's Expert line.
Gerard will join the list of genetically blessed celebrities who have endorsed the beauty brand, which includes Beyonce, Eva Longoria Parker, Penelope Cruz and Scarlett Johansson.