Denim JeanPants Underwear (Not Just for Nevernudes): If Everyone Jumped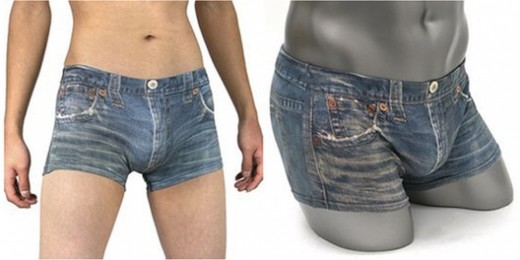 The things people come up with to make men's clothing more interesting never fails to amaze. Maybe you've already got your pair of SUBS garter/suspenders, but want an extra bit of assurance in case your pants sag just a little too low. Enter JeanPants underwear. {Racked}
Available in medium or large, the $61 pair of underwear comes to you courtesy of the Japan Trend Shop. This has to be Japan's official response to that massive donation of Crocs. Well played, Japan.
Here's how the cotton and polyurethane shorts are being marketed:
"The tight and chic JeanPants from local clothes brand CUW are pert, durable and oozing zeitgeist appeal. Although likely to be more popular with men the designers also say women are welcome to enjoy the style too. For sure, the 'worn' denim look is all the rage in Tokyo at the moment, and this underwear adds innovation to that trend by transposing jeans fashion to your briefs."
While the shorts are intended for men, CUW (the brand behind this product) claims that they're suitable for ladies as well. Obviously, they're trying to tap into the market of guys who were lining up for the ex-girlfriend jeans. Somehow, the fact that these are unisex doesn't make them any more appealing to us, but if you're Tobias Funke or one of the dozens who were waiting for these, your underwear pleas have not fallen on deaf ears.