DKNY Men's Fall 2010 Collection: Classic, Rugged, Versatile
The DKNY Men's Show held last night at the Breslin Bar and Dining Room in New York City was quite an event. Not your typical runway show as the room was thick with models sitting on couches, posing, socializing and even noshing on fancy silver-plated hors d'oeuvres. While we love the spectacle of a runway show, a well planned presentation can be equally exciting for the increased level of interaction.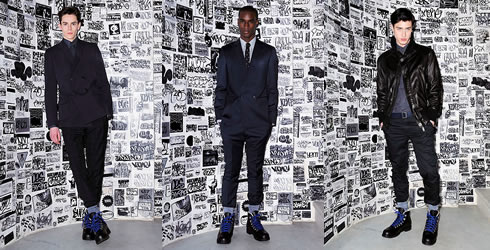 The room was divided by velvet ropes into three scenes. The first was very classic with black carpet, black leather couches and dim lighting. The scenery complimented the deep tones of the double-breasted suits, leather bomber jackets, black cotton slim trousers and polished combat boots.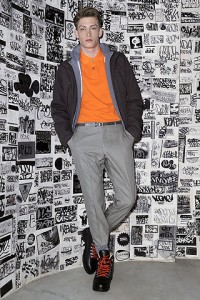 The second scene was lightened by softer tones and pops of color as shades of gray and navy served as the foundation with accents of flourescent orange, blue, olive, burgundy and aubergine shoe laces and skinny ties. Pants suits and striped pullover sweaters were done in contrasting colors and we noted some classic pieces like the trench coat and a surprisingly stunning poncho in this scene (hello Andre Leon Talley).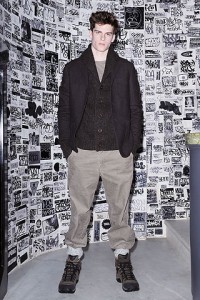 The last lineup featured the pureDKNY Collection which was the most casual of the three, where rugged really made a statement. Khakis were paired with sweatshirts worn beneath suit jackets and fur-trimmed parkas, bubble vests and corduroy trousers mixed with cotton hoodies and canvas jackets.
Clear themes running through the entire collection included the noticeably slim silhouette, skinny pants tucked into wool socks and chunky hiking/combat boots. Donna Karan describes the Fall Collection saying, "The clothes are built different: innovative fabrics and inventive construction, active sport elements and easy to live with fabrics redefine the lifestyle for the man on the move."
The overall essence of the line is sleeker and edgier than seen in past collections and the versatility is amazing. The lightweight wools and jerseys stand alone or can be layered or reversed. These highlights cater to the "Buy now, Wear now" aspect of menswear. It is refreshing to see the effort put into the functionality of this collection that maintains the sleek lines and versatile urban elements that have become the signature of DKNY To view the entire collection visit GQ online.