The Silas Bahr Hooded Jacket Is Everything That's Right About Crowdsourced Fashion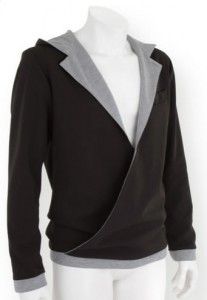 We covered Garmz, the startup that lets designers take an idea from sketch to (online) store based on community support, after meeting them at LeWeb.
Browsing through the store, where production ready designs are put up for pre-order or sale, we came across this hooded jacket by Silas Bahr. Or, exhibit A in why Garmz just may be able to make the crowdsourced fashion model happen.
It may not be the next Tik Tok + Lunatik (read: million dollar project), but the hoodie/asymmetrical front jacket combination strikes a rare balance between comfort, functionality and design. Even Jimmy Choo and Ugg couldn't figure out the design portion of that equation, so it's no small feat.
"It always had been a wish of mine to have something between a sweater or hoodie and a jacket. I like the classy style of a jacket but the comfortableness of a sweater. I do not like to look too formal but not too casual either. So I mixed it all up." – Silas Bahr on his inspiration for the hooded jacket
We like the idea that there's a place where a student who was "not very interested in fashion design before" can find the support to go from concept to clothing. Mix it up.
Hooded Jacket by Silas Bahr – €76/approx. $100 at Garmz