Slam Jam / Forfex Fall/Winter 2010: Show and Sell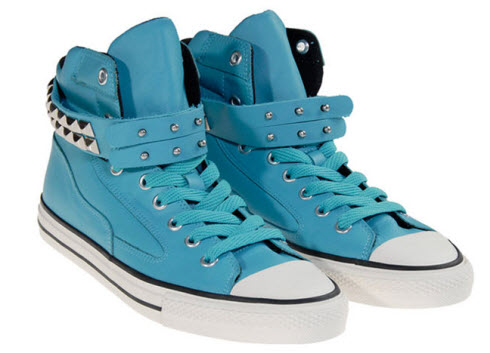 Women have a reputation for slavish devotion to their shoes, but a look at any sneaker blog or forum will reveal that guys can give the heel obsessed girls a run for their money. And let's be honest – running in sneakers is easier than running in heels, so perhaps they're even a few steps ahead.
At Rendez-Vous Paris, Slam Jam's Forfex brand studded sneakers and blue suede shoes immediately grabbed our attention.  The Milan based company sells a variety of mainstay urban brands like Nike and Adidas through their online store, but the colors and details of their own creations will easily establish them as the go to sneaker in any connoisseur's closet.
For their Fall/Winter collection, Killers Zip Boots take cues from the sneaker style with back studding and an added zipper, while the popular Killers sneakers get refreshed with a geometric inner ankle portion. For the ladies who remember the pom pom socks that used to peek over the heel of your sneakers, the Knight's layered back detail will bring back memories of shoe styles past.
Like any true studs, the Kick It (pictured) and Killers are enough to make guys want to walk in your shoes, and girls want to walk with you.
Click the thumbnails to view larger images from Slam Jam's forthcoming Fall/Winter collection. Current collection is available at the SlamJam store.