The Gardens of the Far East with Tadashi Shoji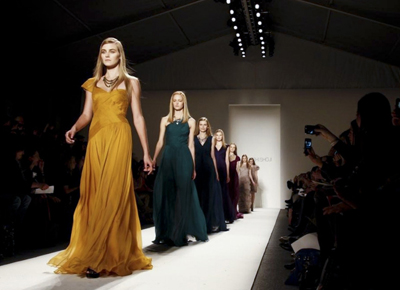 Tadashi Shoji said he wanted the girls to look angelic, like they're going to take flight. Take flight they did in his Fall/Winter 2011 presentation at New York's Mercedes-Benz Fashion Week. The show was a stunning spectacle to say the least.
Known for his feminine silhouettes and clean lines that often grace red carpets (Julie Bowen's nude dress at the Golden Globes was a favorite), Shoji wowed the crowd with his elegant collection inspired by the gardens of the far east. Drawing inspiration from the beauty of nature, "the art of birds dancing, branches intertwining, rock formation and light reflecting in water", Shoji brings the stage to life, evoking a sense of serenity and purity.
The presentation began on a soft and demure note, showing one-shouldered draped cocktail dresses, incredibly classy feathered skirts, feather-accented shoulders and collarbones and feather-like lace tiers that continued the aviary theme. Each piece was made with a simplicity that compliments the female form.
The colors were absolutely gorgeous ranging from muted neutrals and earth tones like black, cream, gray and olive then progressing into evening wear. Exuberant jewel-toned, long floor-lenghth gowns graced the runway. Bursts of yellow, deep purple, magenta, navy and rich shades of floral and emerald green glided in formation.
Even with bolder jewel tones that would be at home on a parrot the entire line exuded a tranquil and peaceful aesthetic through fabrics like silk crepe, silk organza and chiffon mixed with delicate lace. The material created beautiful movement throughout the collection. Intricate rouching, draping, feathers, rosettes and floral appliques added a touch of elegance.
Overall the collection was very visually appealing and well-rounded, offering every type of dress from lace to strapless, to asymmetrical and flowing. The palates and accents were incredible and each piece appeared to be worn effortlessly, mirroring the collection's overall ease of wear. We were really impressed with Shoji's ability to seize the runway with such captivating colors, fabrics and fit. The attention to female form in such a vibrant and sophisticated way, while maintaining a fun and youthful energy, is what stands out most in his work. This collection is one that will please everyone from fashion editors and celebrities to the every day consumer.