5 2011 Golden Globes Fashion Trends to Save and Skip
Unlike online influence, red carpet influence is one of those things that's difficult to measure. Supermarket tabloids and gossip columnists usually play it safe and give best dressed to stars who go with a cookie cutter gown, while worst dressed goes to anyone who takes a fashion risk. Fashion blogs normally go the other way, praising those who aren't afraid to look more runway than red carpet, and applying a snooze label to those who play it too safe.
We haven't found a measurable way to tally best and worst dressed just yet, so we'll just just round up the larger trends and add our favorites to the mix. Click on images to view at a larger size.
Golden Globes 2011 Fashion Trends
Pretty in Pink and Red or Dead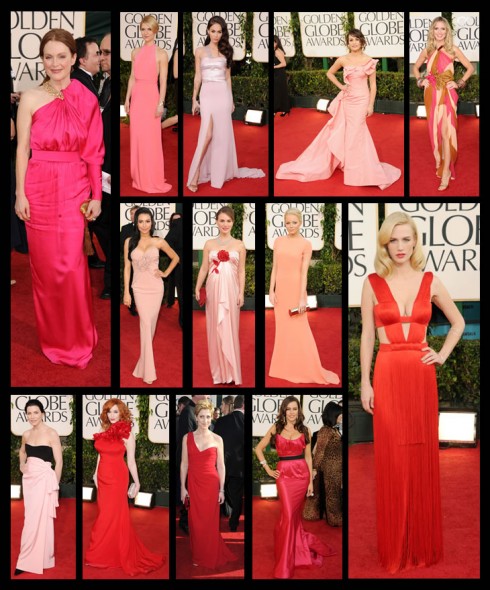 Save: Julianne Moore in Lanvin, Julianna Margulies in vintage Yves Saint Laurent
Skip: January Jones in Versace
Don't get us wrong, January Jones looks great and men probably got a lot more interested in the red carpet after seeing that dress; but the line between vamp and tramp is thin and we're not sure how many women would be able to toe the line in this dress or any "inspired by" designs.
What They All Wore
1st row L to R: Julianne Moore (large image) in Lanvin, Claire Danes in Calvin Klein, Megan Fox in Armani Prive, Lea Michele in Oscar de la Renta, Heidi Klum in Marc Jacobs
2nd row L to R: Naya Rivera, Natalie Portman in Viktor & Rolf, Emma Stone in Calvin Klein, January Jones (large image) in Versace
3rd row L to R: Â Julianna Margulies in vintage Yves Saint Laurent, Christina Hendricks, Edie Falco in Valentino, Sofia Vergara in Vera Wang