Nicki Minaj's Pink Friday MAC Lipstick May Return In 2011
Nicki Minaj's debut album Pink Friday has been a sales success, with more than 650,000 albums sold in its first month out. The rapper's debut product collaboration hasn't been a slacker either.
Sold only on four Fridays starting with Black Friday, Minaj collaborated with MAC on a bright pink lipstick called Pink Friday that's completely sold out.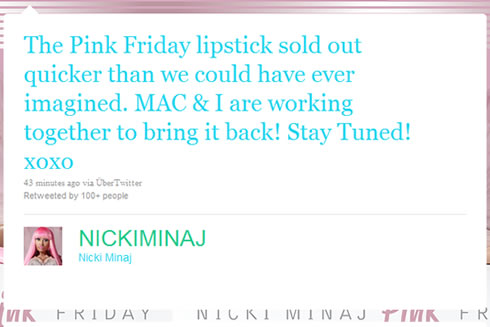 Fans are still lining up for the shade, so it looks like MAC may bring the shade back for a few more Fridays, and a possible international expansion in terms of availability in 2011.
If you can't wait for the restock, there's a contest on Nicki Minaj's website where fans can enter to win a tube. There are 5,000 pages of comments and 3 days left to enter though, so you'll probably be better off waiting for the next available Friday.
Many have compared Minaj's aesthetic to that of a hip-hop Lady Gaga, Lil' Kim's called style infringement on her colorful hair choices, but regardless of comparisons there are enough people following this Barbie girl's style to indicate that lipstick is probably just the first step.
We're not sure if the perfume or the star startup will come first, but it seems like Ms. Minaj is on course to pass Celebrity Brand Building 101 with flying colors (shades of pink, of course).