Eco-Friendly Vacation Essentials
If you haven't taken your summer vacation yet, you're probably planning on one soon. But before you step out that door to a few weeks of blissful obliviousness, we have a few products to help put your eco-conscious mind to rest.
Mouse over individual products for pricing, click to buy.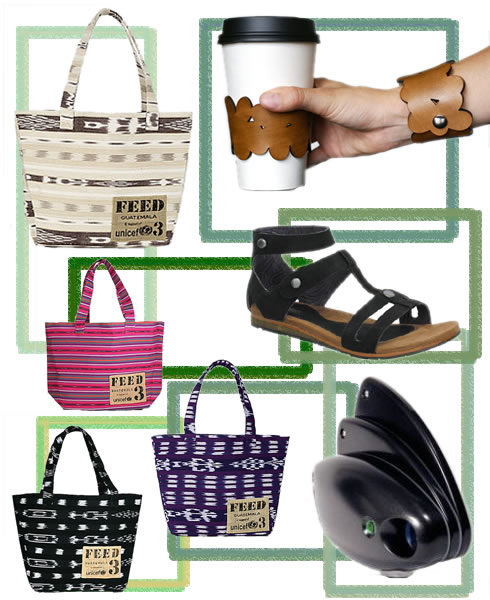 While you may be on vacation, most people still like to stay connected to the technological world. That means that most people bring a plethora of electronics with them, usually including a Blackberry/iPhone/cellphone, an iPod of some sort, and a GPS. But to keep all these devices working you need three different chargers. And if you're going overseas, then you also need adapters! To solve these problems, we have one simple product: the Solio Classic Solar charger. A little larger than an iPhone, the charger features adapters for all your electronics. Open the panels and let the charger sit in the sun for a few hours to charge it's battery, then plug your devices in to the charger overnight to charge your devices.
Of course you're going to need something to carry your charger and devices in. FEED sells a tote that is perfect for summer and betters poverty stricken areas of Guatemala. Produced in collaboration with Nest, an organization that helps provide work for female artisans, proceeds from the totes go towards feeding 3 Guatemalan children for a year courtesy of UNICEF. But the FEED Guatemala Ikat Tote bags' bright colors and prints are cute enough to sell out on style standards alone.
A guarantee of almost any vacation is a certain amount of walking. Thus, you need a shoe that is comfy, cute, and eco-friendly. The Tantan sandal by Simple Shoes is our pick for a vacation must. With a molded sole made of recycled tires and natural rubber, the Tantan is durable, comfortable, and supportive, ideal for a walking sandal. The upper part of the shoe is made of leather produced through environmentally friendly tanning processes. But the multiple straps and leather are reminiscent of the gladiator sandals that are still quite on trend.
By now, you're anticipating that you're going to need coffee to keep you going during all this walking and charging of electronics. While you may not bring your reusable coffee mug on vacation, there is an ingenious accessory that is both cute and functional. Called the cozy/cuff, it's made from either leather or felt, and can be worn as a bracelet until you need it to be a coffee cozy. We like the leather SKINNY SNAP version because it looks more like a leather cuff when worn.