2011 Oscar Fashion Winners
So now that you know who won the actual Oscars last night – congrats, Natalie! – let's discuss who won on the red carpet. There aren't any official awards for style, but if we had to submit a choice for the fashion Oscars (c'mon MPAA, make it happen!) here are our picks for each category.
Color You'll Be Seeing At Proms Everywhere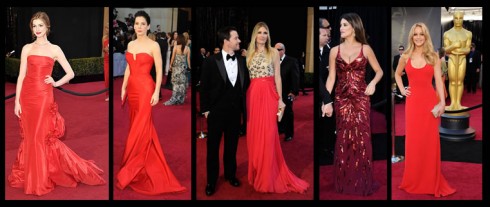 The award goes to… the color red! Continuing the trend from the Golden Globes, if there's one definitive awards season color trend it's playing match the carpet. We're not won over by Anne Hathaway's red Valentino, but Sandra Bullock was beautiful in Vera Wang, Rhea Durham (Mark Wahlberg's wife) in Naeem Khan was one of our favorite uses of red, and Jennifer Lawrence's Calvin Klein dress isn't the most memorable, but is a choice that would be almost universally flattering. Penelope Cruz is beautiful, but we're not crazy about her L'Wren Scott dress.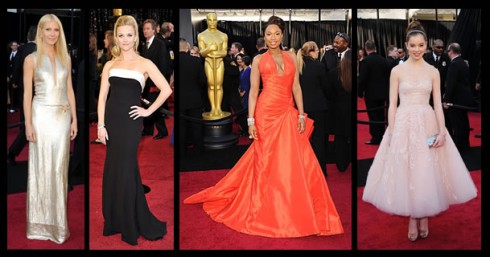 Best Dressed Minimalist
How do we decide this one? Gwyneth Paltrow was a bit flashier in Calvin Klein with Louis Vuitton accessories, but we loved Reese Witherspoon's white-trimmed Armani Prive black dress as well. There will probably be a bit of disagreement over Witherspoon's Barbarella-worthy hair, but with an understated shape and colors, we think it's the perfect pick for a bit of experimentation as far as hair and accessories go.
Best Dressed In a Real Life Transformative Role
Jennifer Hudson's had a number of transformative life experiences, and they seem to have all given her a level of fashion confidence that she didn't have when she first walked away with Oscar gold (also made, by the way, in Hudson's hometown of Chicago). We only have one descriptor for Hudson's tangerine Versace dress and overall look – wow!
Best Style Newcomer
We're still not totally sold on her Prada stripes for the red carpet, but overall Hailee Steinfeld has been killing it this awards season. She didn't disappoint in embellished Marchesa last night, and we sincerely hope Steinfeld continues to get great roles because we've become quite attached to seeing (and loving) her style picks.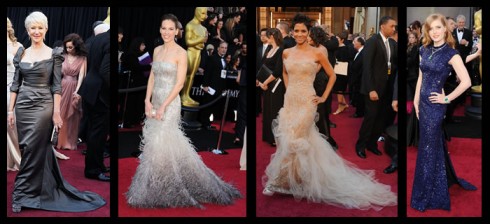 Best Demonstration of Ageless Style
Helen Mirren in Vivienne Westwood. That is all.
Best Representation of Classic Hollywood Glamour
Hilary Swank's sequined and feathered Gucci dress and upswept hair were nothing but glamor. The "inspired by" dresses are going to look like a disaster, but the original is pitch perfect.
Best Negative Publicity Deflection
Remember that nasty potential custody battle Halle Berry was gearing up for with model ex Gabriel Aubry? No? Thank that lovely Marchesa dress.
Best Use of Accessories
Amy Adams' shimmering, dark blue L'Wren Scott dress was a favorite that continued the all over sequin trend, but we couldn't stop looking at the huge, vibrant green emeralds on her neck and wrist. The Cartier jewels were worth a reported $1.35 million and looked every bit of it.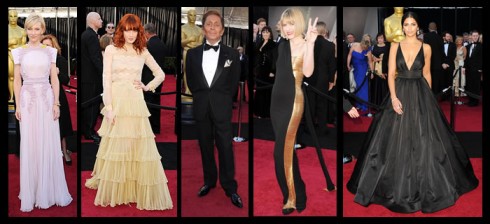 Best Fashion Risk
Cate Blanchett is sure to end up on the worst dressed list for those who like their red carpet fashion safe, and this is definitely one that takes a strong dose of personal style to pull off. Blanchett has plenty of that though and the circular bodice, beaded accents and architectural sleeves on her Givenchy dress work for her.
Best Dressed, Quaker Edition
Florence Welch in Valentino is a lot more buttoned up than the red carpet looks we're used to seeing, but in a very (very) classic Little House on the Prairie way it's a unique look that stands out without the normal glitter and jewels that are the standby way to stand out, and Welch pulls it off.
Best Oscar Impersonator
Valentino Garavani. The only man with a patina that Oscar would be jealous of.
Best Dressed In a Supporting Role
You know who doesn't always get credit for fashion choices? Oscar dates. Camila Alves (Matthew McConaughey's wife), Sunrise Coigney (Mark Ruffalo's wife) and Rhea Durham (see: top of the page) may not have been up for any awards themselves, but Alves and Coigney were every bit the leading style ladies in grand black dresses that deserve an award of their own. Alves wore Kaufman Franco.