A Day at the Beach: Little Black Dress of the Week
With the summer, comes the beach. And with the beach comes the dilemma of finding a cover up that doesn't look like a cover up. Let's face it, most swimwear cover ups are not very versatile or flattering. Luckily, we've got a dress that can take you to the beach, then the supermarket, and that evening concert in the park.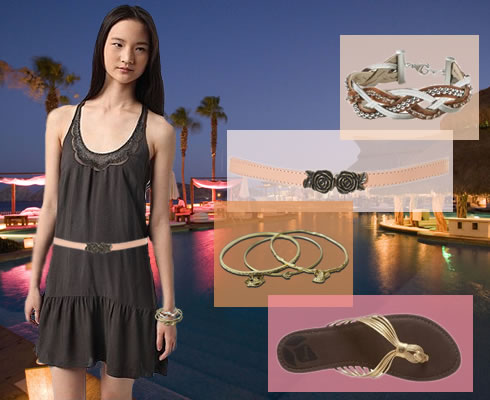 Staring at Stars makes a cute little t-back dress in a faded black that is perfect for the beach. The fact that the color is bit faded means it won't look to harsh in the bright sun of the beach, and the loose cut makes it casual and breezy. The subtle embroidery at the neckline sets it apart from your basic cover-ups. Paired with the Loop de Loop sandals by Reef in gold, this dress becomes casual enough for the beach but pulled together enough to wear elsewhere. To bring the look to evening, add a mixed media bracelet and bangles; the leather, sparkles and gold combine in an interesting manner to fancy up the dress while adding a bit of festival style. Top off the whole look with a skinny belt with rose buckle to add definition to the waist without detracting from the easy-going nature of the outfit.
Staring at Stars Embellish T-Back Dress in Black, Sizes XS-L, $68 {Urban Outfitters}
Reef Loop de Loop Sandal in Gold,  Whole Sizes 5-11, $33.17 {Endless}
Trio Twist Bracelet, $35 {Banana Republic}
Rachel Roy Goldtone Bangles, $38 {Macy's}
Rose Buckle Skinny Belt in Apricot, Sizes S-L, $30 {Topshop}