Alexander McQueen: 1969-2010, Already Missed Terribly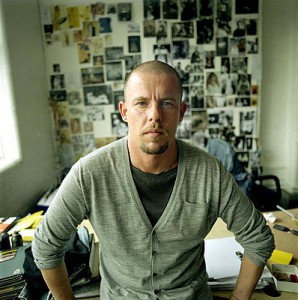 In an awful piece of fashion news, reports of Alexander McQueen's death have been confirmed by his company. Barely a month shy of his 41st birthday, the British designer known for his wonderfully eccentric designs – most recently towering rounded front high heels worn by Lady Gaga, Kelis and other stars who push the fashion envelope, McQueen took his own life just days after the passing of his mother, Joyce.
Sadly, McQueen's suicide is not the first to shake the fashion world. Model Daul Kim took her own life in November, and Isabella Blow, who famously purchased McQueen's entire graduate collection, also died as a result of suicide in 2007.
Thoughts from some of McQueen's peers:
"We are devastated to learn of the death of Alexander McQueen, one of the greatest talents of his generation. He brought a uniquely British sense of daring and aesthetic fearlessness to the global stage of fashion. In such a short career, Alexander McQueen's influence was astonishing—from street style, to music culture and the world's museums. His passing marks an insurmountable loss."
– Anna Wintour, Vogue
"I am truly devastated to lose my close friend. His talent had no boundaries and he was an inspiration to everyone who worked with him and knew him. This is a sad day to all who loved him around the world and my condolences are with his family. I will miss him so much, he will never be forgotten."
– Naomi Campbell
"I found his work very interesting and never banal. There was always some attraction to death, his designs were sometimes dehumanized. Who knows, perhaps after flirting with death too often, death attracts you."
– Karl Lagerfeld