Alexander McQueen Takes Control of McQ, Sarah Burton Takes Control in Paris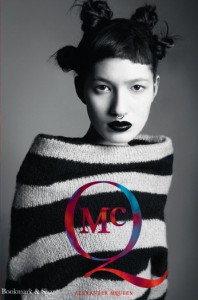 The McQ contemporary line will come under the complete control of Alexander McQueen beginning with the Fall 2011 collection, fashionologie reported via WWD yesterday. Italian company SINV SpA currently has the license to produce Alexander McQueen's McQ line, but the agreement will expire following the Spring 2011 season. The change will come with minimal disruptions to the operation of Alexander McQueen and the McQ line, as Pina Ferlisi, who was named creative director of McQ in June, will remain in that position.
"McQ will become our responsibility alongside the core Alexander McQueen label, allowing us to share ideas and knowledge, expand the business and grow the already iconic brand," President and CEO of Alexander McQueen Jonathan Akeroyd told WWD. "Over the past five years, McQ has established itself internationally with its young, renegade but always signature McQueen style and we are ready to take it to the next stage in its development."
Speaking of development at Alexander McQueen, the label is enjoying wild success of late, as the highly anticipated first womenswear collection by newly appointed creative director Sarah Burton debuted with astounding praise from critics in Paris this month. Burton replaced Lee Alexander McQueen at the helm following his death earlier this year.
The general consensus among critics is that Burton's first collection was the perfect balance of respecting McQueen's vision and adding personal, more feminine touches to advance the brand.
Hilary Alexander at the Telegraph said the collection included "elaborately-beautiful pieces which maintained the spirit of McQueen's legacy, whilst injecting a new atmosphere of ethereal bohemian romance," while Cathy Horyn at The New York Times said, "some references to the McQueen craft and drama are necessarily, but her choices reflected a gradual transition."
Booth Moore at the Los Angeles Times noted that Burton's collection seemed more wearable than the typical McQueen line. He credited that to her status as a woman, saying the clothes, "didn't have the tortured genius of the namesake designer … But the clothes may have been better for it." He added that even though much of Burton's collection was typical McQueen, "Burton banished McQueen's famously restrictive neckpieces, headdresses and hobbling shoes with a woman's touch."
What do you think of the collection? Perfect balance of McQueen and Burton, or would you have liked to see something else?