American Apparel CEO Dov Charney Is Like Steve Jobs or Jeff Bezos, According to Dov Charney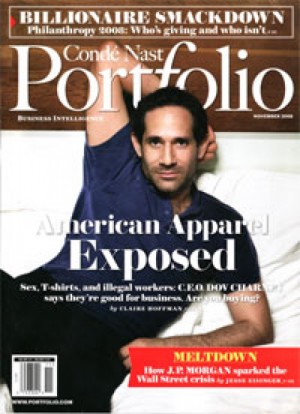 In an interview with the New York Post, American Apparel CEO Dov Charney likens his current situation (his current situation being that the company is on number 7 or 8 of its 9 lives) to that of Apple or Amazon.
"People didn't believe in Amazon for many years, but it ended up changing the way Americans shop," he says. "People didn't believe in Apple — they thought it was a fringe computer company, but it ended up changing the way people listen to music, and changing what daily life feels like worldwide."
Given that Charney has made it abundantly clear that he won't be leaving his leadership role at American Apparel, we can infer that he sees himself as the Jeff Bezos or Steve Jobs of the clothing industry.
Well, all of the companies start with the letter A, but that's as far as we got with the comparison. While we're pretty sure it will be some time before you see illustrated nudes pitching Apple, the latest investors to save American Apparel from bankruptcy are confident in Charney as head of the company, and the company's less controversial practices.
A representative from Essentia Equity, one of the Canadian companies who injected capital into the company, cited a weak US dollar, rising Chinese labor costs and increasing transportation costs as reasons why they invested in the company, one of the few American mass market retailers who still manufactures the bulk of their products in the US.
American Apparel's Los Angeles factory has reportedly recovered most of the productivity it lost after forced layoffs after an mmigration violation. If nothing else, this seems to be consistent with what Charney told us last year, when he insisted that the company would continue to hire in spite of financial challenges.
With the sexual harassment allegations that repeatedly arise against Charney, the provocative ads that define the company, and the repeated brushes with bankruptcy it's easy to write American Apparel off. As we've noted, to do so would mean the loss of some good business practices as well though. We're not sure if American Apparel is the next Amazon or Apple, we're definitely not sure about Charney as the next Steve Jobs or Jeff Bezos; but the economic conditions noted by Essentia are real, and Charney's determination remains solid. Whether that will be enough for American Apparel to capitalize on remains to be seen.