Breast Cancer Awareness Month and Fashion's Strongest Supporters Bring On the Pink
Today marks the official start of Breast Cancer Awareness Month, and several fashion companies are putting their own spin on pink to raise money to support the cause. While some brands have launched a special edition pink item or two, this year some designers are going all out with entire collections and big ticket item auctions. Every effort counts, but we're focusing on two designer offerings that really raise the bar on what it means to show support for the fight against breast cancer.
Kohls and Simply Vera by Vera Wang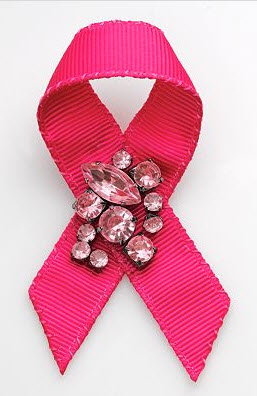 Each item in the collection is only $5 or $10, making shopping to support the cause a reality regardless of budget. If you're looking for a pink ribbon, the collection's jeweled, bright pink pin (pictured) is a nice update on the classic that's stylish enough to wear for months to come. A sequined hat, scarf and glove set are only $20 and would make a good stocking stuffer for anyone looking to start their Christmas shopping early. The best part of the collection, however? 100% of net profits are donated to the American Cancer Society's Midwest division and the Southwestern Wisconsin branch of the Susan G. Komen foundation.
What makes this so generous is the fact that most fashion and beauty items sold for a particular cause normally only offer a portion of the proceeds to charities or foundations. Also, the collection is featured on the Kohl's homepage. While it's not a huge banner, it's a more prominent placement than any other shops are currently offering to items benefiting breast cancer awareness.
Shop the complete Simply Vera Vera Wang special collection at Kohl's
Ralph Lauren's Pink Pony Foundation
Not content with offering a pink item or two each year, Ralph Lauren actually made breast cancer awareness a part of his charitable foundation 10 years ago.
"Pink Pony is a worldwide philanthropic effort. In the United States, Pink Pony grant recipients include the Ralph Lauren Center for Cancer Care and Prevention, Memorial Sloan-Kettering Cancer Center and Breast Cancer Research Foundation in New York City, Women's Cancer Research Institute at Cedars-Sinai in Los Angeles, Prevención, Inc., and Nina Hyde Center, both in Washington, D.C.

Internationally, Pink Pony has supported the American Hospital of Paris, the United Kingdom's Breast Cancer Haven and Cancer Research UK, National Breast Cancer Centre of Australia, Susan G. Komen of Germany, the Japan Cancer Society and the Ligue Genevoise contre le cancer, Geneva, Switzerland."
So it shouldn't be any surprise to see the homepage completely wrapped in pink to promote breast cancer awareness. This isn't your normal fashion fundraising item, neatly tucked away into the rest of the inventory. Normally, 10% of the purchase price from items in the Pink Pony collection goes towards breast cancer throughout the year. In celebration of the fund's 10th anniversary, and to mark a special effort for Breast Cancer Awareness Month, 300 items are up for auction – with 100% of the auction proceeds going towards the Pink Pony fund.
On the auction block? A personal tour of Ralph Lauren's car collection, a weekend at the designer's Jamaican villa, a polo lesson from Ralph Lauren model and Argentinian polo player Nacho Figueras, a ride with cancer survivor Lance Armstrong and a meeting with Anna Wintour among other prizes.
Don't look for any $5 or $10 bargains here, but if you can afford to get in on the bidding, the prizes are top tier and all of the proceeds go towards a very good cause. Also, for the month of October, entering the code RLGIVE2010 at checkout on any purchase will give you a 25% discount, and a 10% donation to the Pink Pony fund.
View all 300 items up for auction at CharityBuzz or shop the Pink Pony collection at Ralph Lauren