Catch It While You Can: This Weekend With Alexander McQueen's Savage Beauty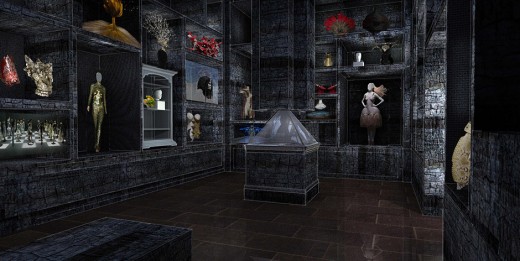 A few words to describe the experience at Savage Beauty: Alexander McQueen at the Metropolitan Museum of Art this weekend: Hot. Crowded. Worth the trip, no matter what.
Vogue UK is reporting this morning that the McQueen exhibit is the Costume Institute's most popular ever at the MET with 5,100 people showing up on opening day, and @WorldMcQueen tweeted that the MET reported a record 43,000+ visitors to the exhibit in less than a week. We certainly believe it.
We got to the museum around 3:30 p.m. on Saturday and headed straight for the special exhibit, which was unveiled at the Costume Institute Gala last Monday and opened to the public May 4, making this the first weekend ordinary folks could visit it. On reaching the entrance the crowding was apparent, but there was no line. However, upon exiting the Savage Beauty exhibit about 90 minutes later, a 45 minute-long line had formed and was snaking its way throughout the European paintings.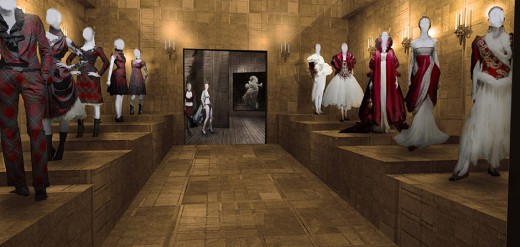 Savage Beauty will remain at the MET until July 31, so if you're really not into the idea of a potential long wait, holding off for a few weeks might be a good idea. We're of the opinion, however, that this special exhibit is worth the 45 minute line.
McQueen's pieces possess a certain magic, and being in the presence of his work had a goose-bump inducing effect, particularly in one of the multiple rooms of the exhibit which contained mounted television screens running clips of some of McQueen's most memorable shows like "What a Merry Go Round" and, our personal favorite, "It's Only a Game." Seeing the "Armadillo" shoes and several looks from "Plato's Atlantis" was also amazing. You can truly appreciate McQueen's attention to detail and perfect execution when viewing his work in person. We could've stared at some of the pieces for hours without becoming bored.
The exit from the exhibit included a Savage Beauty gift shop with all of the expected memorabilia including Savage Beauty T-shirts and wall calendars. Also available was a catalogue by Andrew Bolton, which can also be purchased online in addition to a commemorative skull scarf (for $495, of course).
If we had one gripe regarding Savage Beauty, it would be the banshee music in the second room. The exhibit consisted of multiple rooms, and in each the different music was appropriately haunting and set the tone perfectly. In room two, however, the music consisted of a repeated banshee howl, which was actually a bit corny and somewhat annoying as movement through the exhibit slowed with the growing crowd. One other minor inconvenience: no pictures are allowed. It's an understandable rule, but still disappointing that the museum docents were strict about enforcing it.
Surprisingly, the large number of visitors to the exhibit doesn't fall into the category of pitfalls. Though the crowd had its annoyances, it was actually an additional fascination. So many different types of people were there, from fashion types to mothers and their kids, groups of girlfriends and a few older groups. It was at once surprising and refreshing to see such varied and large interest in a fashion exhibit, since it often seems widespread interest in fashion is restricted to shopping.
Bottom line: no matter who you are or how much knowledge of or interest in fashion you have, Savage Beauty is worth the trip to the MET. Get yourself there. ASAP.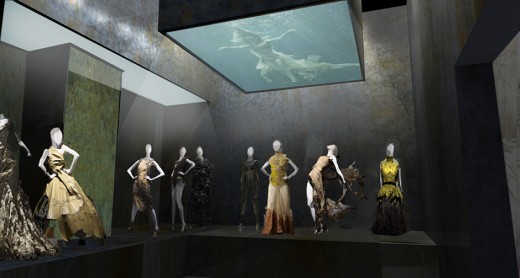 Exhibition renderings by Joseph Bennett via the Metropolitan Museum of Art Blog