Diet Pepsi Style Studio Fails to Impress, but Diet Coke Should Still Watch Out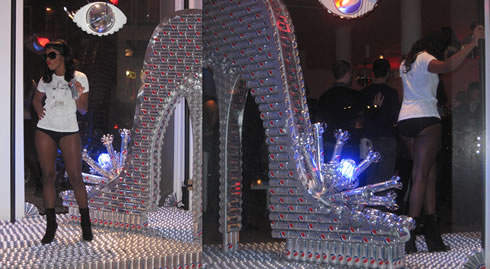 This weekend Signature9 attended Diet Pepsi's Style Studio event in SoHo as part of New York Fashion week, and we have to say we were a bit disappointed with the whole thing. The night promised to include designs by Jonathan Adler, a Diet Pepsi "Skinny Bar" and most importantly a window display by Barneys' Simon Doonan, who was recently moved from being their creative director to "creative ambassador at large."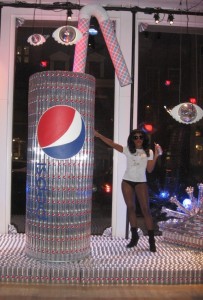 The window creation Doonan produced for Diet Pepsi was somewhat impressive. It featured a giant high heel made of the new Diet Pepsi skinny cans (which won't hit retail shelves until March) as well as an equally large Diet Pepsi skinny can, also made out of regular-sized skinny cans. Both were pretty cool by themselves and must have taken quite a lot of work, but overall we got more of a tart than art vibe from the whole setting. The models working the display were dressed in just a t-shirt, panties and fishnets, and the giant shoe was stripper-heel style, though we do have to give props to the models for being able to balance on a platform made of soda cans. A model laid out on a chaise lounge was also sprawled by the front door, but it came off as cheap rather than eccentric chic.
The interior decorating was classier, but less creative, as it consisted basically of a few white flowers stuck in Diet Pepsi skinny cans throughout the room. There were also apparently special straws by Adler in the Diet Pepsi skinny cans that were served, but we really didn't notice anything special just from drinking from them. Maybe we're oblivious, but we thought they were just colorful.
Most of the headlines and blog posts about the Diet Pepsi Style Studio are actually about Blake Lively's attendance at the event, not the event itself, which pretty much says it all about just how memorable the night was.
We must say though, if Diet Pepsi is angling to replace Diet Coke as the fashionista's drink of choice, as many speculated a few weeks ago, they might have more of a chance than we initially predicted. The event was buzzing with fashion types, and Gabrielle Union, Rachel Roy and Lala Vazquez made an appearance in addition to Lively. The brand also partnered with Charlotte Ronson and Betsey Johnson for promotions. Plus, as an official sponsor of Mercedez-Benz Fashion Week, Diet Pepsi was very present in the main tent at Lincoln Center where we didn't see one Diet Coke. There is work needed on the uptown class part of the campaign, but diet drink loyalty from the fashion set does seem to be up for a Pepsi challenge.