Fashion Community Toolbox: 30+ Social Style Sites (Plus the Ones Who Didn't Last)
Tomorrow we'll release the latest update to the Style 99, our fashion blog ranking. Over the next few days, we'll apply our ranking formulas to other fashion sites as well: sites from major publishers, community sites and many more that aren't quite blogs, but influential in their own right.
For now, we turn our attention to the many fashion communities out there. Everyone uses Facebook, some people are still using MySpace, and Twitter has found more than its share of fashion followers. But even though MySpace has 580,000 fashion "friends" and Facebook counts 790,000 people in the US who are interested in fashion, chances are that most of those people aren't there specifically to talk style. Here are a few places where they are.
Social Shopping
For independent designers, Etsy has long been the go-to marketplace. eBay may have a more massive audience, but the 5-year old Brooklyn based company has a seriously dedicated community of crafters who enjoy the simpler (and lower) fee structure. Not to mention a tongue-in-cheek blog poking fun at some of the more questionable content that's spawned a book. When you're able to support not only your own site, but provide a foundation for others, you're doing something right.
ShopStyle, StyleFeeder, Kaboodle and Osoyou in the UK are all driven by product search engines, but they each have communities to help point users to fashion finds they may have missed in a standard search. What else to they have in common? With the exception of Osoyou, multi-million dollar acquisitions by media companies. In the case of ShopStyle, it's blog behemoth Sugar Inc., StyleFeeder was recently sold to Time Inc. and Kaboodle went to Hearst in 2007 for $30 million. Couture Society, which launched in 2009, is the new kid on the block and has yet to gain a significant audience.
Sense of Fashion is shopping focused but incorporates a little bit of everything with a marketplace, outside product bookmarks and personal style photos.
Personal and Street Style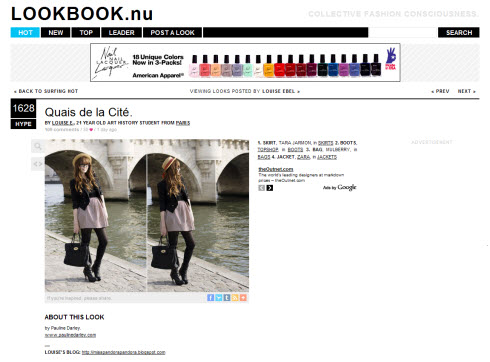 When it comes to personal style communities, Lookbook is the biggest of the bunch, but it hasn't stopped other sites from taking their best shot at organizing the thousands of personal style sharers out there. Style Diary, which was acquired by the recently acquired StyleHive (keeping up here? Good), is one of the first personal style communities, and a place where you can still find older photos of influential fashion favorites like Susie Bubble.
Weardrobe publishes user photos in more of a blog style, similar to Lookbook, and was recently picked up by shopping search engine Like.com. Trendmill has a revamped focus on community contributed street style photos.
Stylemob and Fashism throw voting into the mix for users to not on share their style, but get feedback. Though Stylemob was acquired by Glam in 2007, it seems the team's efforts have been shifted to Glam activities – most user submitted photos and comments are still from 2007. Though Fashism is still new (they launched in September 2009), there's a fairly active community posing style questions on a regular basis.
And the unexpected style star? Fashion Freax, which blends runway photos in with user submitted pics. The German website may not be as familiar to English speaking audiences as some of the other personal style communities. But with plenty of participation and English, Portuguese, French, Spanish and – of course, German user interfaces it's in a good position to be a truly international resource for style watchers.
Fashion Networking & Discussion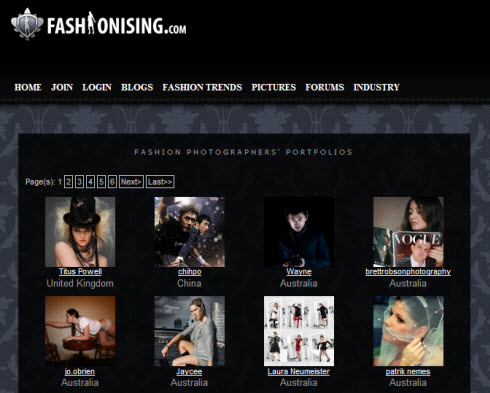 If you're not a fashion exhbitionist, and you've already decided how to blow your shopping budget, fear not: there are still plenty of communities where you can connect with other fashion followers to discuss which new face stood out most on the runways, or which magazine made your month.
Australian based Fashionising got its name from a combination of fashion and socializing, and has built a very respectable worldwide audience from their combination of community profiles, forums and a frequently updated blog maintained by the site owners. Fellow Aussies, 2threads, started as a newsletter in 2005 and launched a formal community in 2009. While Fashionising is the bigger site of the two, 2threads has added seems to have regularly updated community content and should get a push from more prominently highlighted marketplace sections.
Forums, one of the oldest versions of communities, may not get the media attention of social networks these days, but the Fashion Spot proves that they're still a very viable form of social media. The invite only forums play host to discussions about models, magazines and many other things in between that can get thousands of replies.
In search of more professional social digs? IQONS and Nineteen74 are two networks offering creative professionals an opportunity to showcase their work and find people to collaborate with based around portfolios rather than shopping preferences.
(Disclosure: prior to starting Signature9 I was director of marketing and business development for IQONS)
Fashion Layout and Styling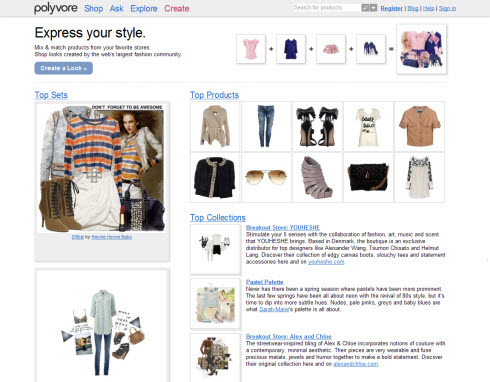 For those looking to let their inner art director loose, these are the sites that make it possible without the years of Photoshop experience. Polyvore, by far the most popular of the fashion layout tool sites, lets users mix products with their own backgrounds and images with regular competitions with major brands. Shmotter offers a similar experience, but may need to find a point of differentiation to grow beyond a Polyvore back-up.
The other sites, while not as large, have their own individual flavors. Fashion Mash and Avenue7, with large-eyed avatars and candy colored layouts respectively seem geared towards more of a teen crowd.
Closet Couture and Schway are focused more on a virtual fitting room experience. While Schway started with various UK retail partners and good pre-launch buzz, it's challenging to actually see other users' looks which may be a contributing factor to the lack of growth. Closet Couture, which launched as a site to connect users with professional stylists who would help connect new items with the things already in a user's closet, has shifted to a more community centered styling model. The move was apparently the right one: there's a current competition with Jimmy Choo, and past contests have had luxurious rewards like an Hermes Birkin bag.
Finally there are the sites that let you go beyond simple layouts to full on editorial shoots. Incredibly addictive, Looklet is a Swedish-based site that lets users choose models and scenery for backgrounds in addition to the actual clothes that appear. When Like.com launched Couturious, many people who'd tried Looklet noticed the striking similarities. The biggest difference is probably commercial intent. While Looklet seems to exist purely for the pleasure of pulling a virtual shoot together, Couturious hopes the DIY editorials will encourage users to buy the items they've worked with.
Fashion Bookmarking
Acquired in February, Stylehive was once one of the style bookmarking challengers to acquiring website ThisNext. While there's probably not 100% crossover – ThisNext includes home design objects in addition to fashion, the pairing makes sense.
While Stylehive and ThisNext bring shopping and recommendations into the process, NotCouture keeps things comparatively simple with editorially selected submissions featured on the front page, and little else. Users can submit and heart items, but otherwise the focus is on cool products rather than cool people.
OpenFashion focuses on polls comparing bookmarked items, but seems to still be in search of something that compels people to come back.
Deathwatch
We began to include Her Fab Life in the list of bookmarking sites, but a look at the front page shows that the upstart community has devolved into a place to list… well, almost anything not even remotely related to fashion. While the site is still around, it may only be a matter of time before the owners decide to stop paying the hosting bill and let it go.
Deadpooled
Share Your Look
My Style Post
Style Du Jour
Fashionspace
You Style Me
Our Threads
While there are many fashion communities actively going for their share of the online style pie, some never grew to a sustainable level or caught the attention of larger companies. Share Your Look and My Style Post were Style Diary competitors that didn't gain a significant following. Style du Jour had a model similar to Closet Couture. Fashionspace was a UK-based community similar to 2threads in the combination of networking with a marketplace. You Style Me was similar to Fashism and Style Mob for the ability to vote on different user-submitted looks. Our Threads attempted to tap into the independent seller market, but offered the ability for users to swap clothes.