Fashionable Causes: Shop In Support of Japan
By now you've heard about the triple disaster that hit Japan; a historic  8.9 magnitude earthquake, followed by a deadly tsunami and now the possibility of a devastating nuclear meltdown.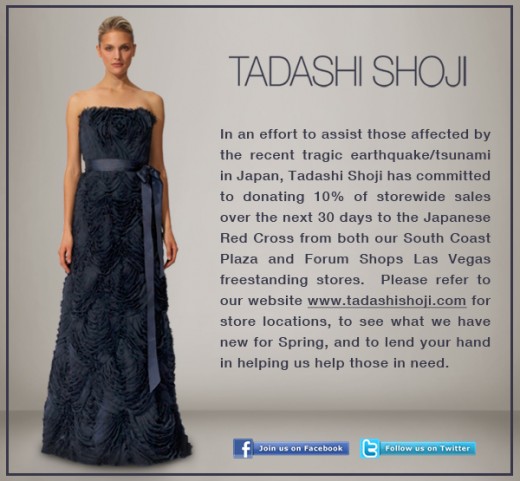 Tech companies played a role in the moments immediately following the catastrophe, but now it's fashion's turn to step in with monetary support to help in rebuilding devastated areas and people who've lost their homes, family members and possessions to the natural disasters. If you're preparing to do some shopping take a second to check out the designers who are directing some of their profits to Japanese aid and make your purchase matter a bit more.
Jewelry designer Alexis Bittar will donate 100% of all sales made on his website next week to the Catholic Relief Services for Japan. In addition, on March 24th, 100 percent of all retail sales at Bittar's boutiques will be donated as well. WWD notes that his first fashionable fundraising effort for Haiti last year raised $60,000.
Tadashi Shoji will donate 10% of sales made in his two stores for the next month.
Coach has pledged ¥400 million (approximately $5 million), according to WWD.
Fast Retailing founder Tadashi Yanai, the billionaire retailer who owns Uniqlo, is donating Â¥1 billion (about $12.2 million) of his own money to relief efforts, and Fast Retailing is donating another Â¥400 million (approximately $5 million) as a company. Customers can donate clothing at Fast Retailing stores like Uniqlo, Comptoir des Cotonniers and Theory. Fast Retailing will also donate coats, jeans, towels and underwear to victims – that represents an additional $8.6 million of aid, according to Time.
Lady Gaga's Japan earthquake relief wristband has a starting price of $5 (all proceeds go towards Japanese relief efforts) and reportedly raised $250,000 in 48 hours with the support of her little monsters.