Fashion's Night Out New York: Top 10 Events for Low Key Shoppers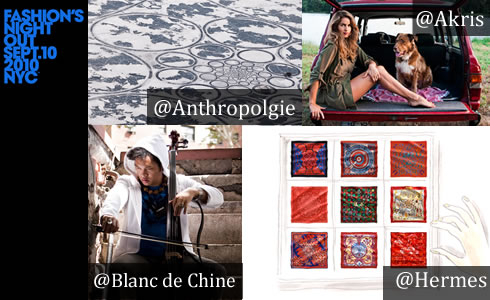 Your favorite fashion accessories are classic, stylish, and never covered in logos or overly apparent signs of flash. A glass of champagne or small sign of special service is appreciated, but extravagant spectacles that would put you in the middle of enormous crowds are the last things you'd sign up for voluntarily.
We covered the top 10 Fashion's Night Out events for celeb seekers, but if your idea of a shopping good time doesn't involve battling throngs of adoring fans, there are plenty of events that give a good reason to come out. Silent auctions, charitable contributions, complimentary cocktails and shopping bonuses are just a few of the things on offer.
Akris
Who: Former Anna Wintour assistant Claiborne Swanson Frank, Veronica Swanson Beard, Alexis Swanson Traina, and Vogue Photography Director Ivan Shaw
What: A photography exhibition Indigo Light is a series of portraits by Claiborne Swanson Frank. Partial proceeds benefit Baby Buggy.
Where: 835 Madison Avenue
Anthropologie
Who: Landscape artist Jim Denevan, the subject of a documentary by filmmaker Meredith Danluck.
What: Denevan's drawing on Siberia's Lake Baikal is displayed on Anthropologie's digital exhibition space, www.theAnthropologist.net. Attendees will get a sneak peek of Danluck's documentary about the artist's Siberia expedition while enjoying cocktails.
Where: 75 Ninth Avenue
Banana Republic (Soho location)
Who: Banana Republic designers offering style tips from 6-8pm.
What: Sparkling wine, hors d'oeuvres and shopping incentives on full-priced merchandise all night long and a presentation of the 2010 Fall/Holiday Collection. Purchases of $100 or more and gain entry into a drawing for two tickets to the Banana Republic Spring/Summer 2011 fashion show.
Where: 550 Broadway
Blanc de Chine
Who: Musician Dana Leong, performing live. Leong is a cellist, trombonist and composer whose music combines hip-hop, jazz and electronic music.
What: Catering, a gift with purchase, raffle for one of Blanc de Chine's $400 travel blankets and the opportunity to view one-of-a kind items from the Museum of Chinese in America's historical collection. A percentage of the evening's proceeds will be donated to the museum.
Where: 673 Fifth Avenue
Hermès
Who: Hermès scarf specialists
What: An evening of scarves, seemingly built around the style spotting site J'aime mon carré. Show off  your own Hermès scarf or stop by for scarf-tying demonstration showcasing fall styles from 6pm – 8pm.
Where: 691 Madison Avenue