Fashion's Night Out: The Top 10 Events for Celeb Seekers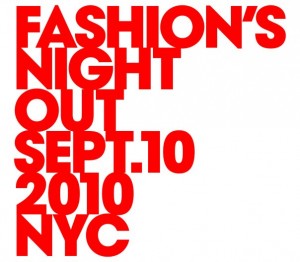 Last year we covered Fashion's Night Out from Paris, where we caught up with Carine Roitfeld, to London and New York. Each city was an overall success in terms of bringing out the shoppers, but the feel of each event was distinctly different. The Paris Fashion Celebration Night focused exclusively on the high end merchants along the Triangle D'Or (Golden Triangle – the area along Avenue Montaigne, George V and Champs-Elysées). Roitfeld made it clear that small and luxe was more in keeping with Paris Vogue's reader, and this year has the same list of merchants. Aside from Vogue editors, who are fashion stars in their own right, there weren't many big names tied to the events.
Allowing the clothes to be the stars of the evening certainly has its merits, but we'd be lying if we didn't admit that we're pretty excited about the madness that will surely accompany the more inclusive New York event. In Paris, there was champagne, cotton candy and chocolate fondue depending on which store you stopped at, but New York promises to pull out all the stops: celebrities, designers and shopping specials to go along with your champagne.
Still, everyone has a different shopping personality. An Olsen twin and throngs of fans waiting for an opportunity to meet their favorite designer might be a dream shopping trip for some, and an absolute nightmare for others. With that in mind, we've gone through the hundreds of events on the Fashion's Night Out website so far and narrowed them down to the top 10 events by shopping personality. Today, we take a look at the must-attend events for those who like a bit of celebrity with their shopping. In the coming days, we'll cover events for those who prefer something more low key, downtown style, fashion, fashion and more fashion and the girl who just wants to have fun.
The Starlet
Big and flashy is how you roll. If anyone asks "who are you wearing?" you've got a list of famous names on the tip of your tongue. Celebrities, designers and hundreds of adoring fans? You couldn't come up with a better shopping scenario.
ASOS.com
Who: Singer VV Brown and 90210 actress Shenae Grimes
What: A pop-up store and block party for Teen Vogue
Where: West Village, 10014 (right around the corner from Anna)
Barney's
Who: Mary-Kate and Ashley Olsen, Daphne Guiness, Alexander Wang, the Mulleavy sisters (Rodarte), Lazaro Hernandez and Jack McCollough (Proenza Schouler), Island Records founder Chris Blackwell
What: More meet and greets than you can shake a stick at, ping-pong, musical chairs and karaoke among other activities.
Where: 660 Madison Ave
Bergdorf Goodman
Who: Mary J. Blige, Nicole Richie, designer turned Hollywood producer Tom Ford, Victoria Beckham, Tinsley Mortimer, Olympic fencer Tim Morehouse, Georgina Bloomberg, First Lady favorite Jason Wu, Bryan Boy, Hamish Bowles, Robert Verdi, Thom Browne, Mark Badgley and James Mischka (Badgley Mischka) and Trish Mc Evoy among others.
What: A makeup artist competition, catwalk show and karaoke. And Tom Ford. Honestly, we'd have this on our "must attend list" if it were watching Tom Ford fill out spreadsheets.
Where: 754 5th Ave. (at 58th Street)
Billionaire Boys Club / Ice Cream
Who: Reclusive producer/entertainer Pharell Williams, who isn't one to make lots of public appearances.
What: A meet and greet, plus special items from the collection available only on September 10th.
Where: 456 West Broadway
Bloomingdale's
Who: Michael Kors, Iron Chef Masaharu Morimoto, Lancome spokesmodels Elettra Wiedemann and Arlenis Sosa
What: Karaoke, tango lessons, cooking demos and a casino night
Where: 1000 3rd Ave.
Destination Maternity
Who: Model and Project Runway host Heidi Klum
What: A retrospective of maternity wear from the 1950s through today. If there's anyone who knows about looking good when pregnant, it's definitely the model mother of 4. Retro snacks and mocktails will also be available.
Where: 28 East 57th St.
Henri Bendel
Who: The City star Olivia Palermo, model Erin Wasson, the Fabulous Beekman Boys and possibly Kaiser Karl (though it's not entirely clear from the description if Lagerfeld will be in attendance, or merely the designer behind a special collection for Swarovski)
What: Astrology readings (at a fee, which will go to charity), a demo of the Lustr iPhone shopping app and jewelry launches.
Where: 712 5th Ave.
Jeffrey New York
Who: Christina Ricci, L'Wren Scott (designer and girlfriend of Mick Jagger), Jason Wu, Nicholas Kirkwood
What: A denim event and menswear trunk show, limited edition Proenza Schouler messenger bags.
Where: 449 West 14th St.
Lord & Taylor
Who: Noted fashion photographer, and America's Next Top Model judge Nigel Barker, New York Jets cheerleaders for the guys, Shoshanna Gruss, Lloyd Boston
What: A "Wheel of Fashion" and prize draws on each floor, meet and greets, salsa dancing and even dating advice if your retail therapy is inspired by romance.
Where: 424 5th Ave.
Macy's Herald Square
Who: Joss Stone, Kimora Lee Simmons, TRAIN, Rachel Roy, Jessica Stam, celebrity chef Marcus Samuelsson
What: a Gucci fragrance launch, meet and greets, a lookbook shoot, Tommy Hilfiger tailgate party and live music performances
Where: 151 West 34th St.