Great Disappointments: Why Fashionair's High Expectations Doomed it to Fail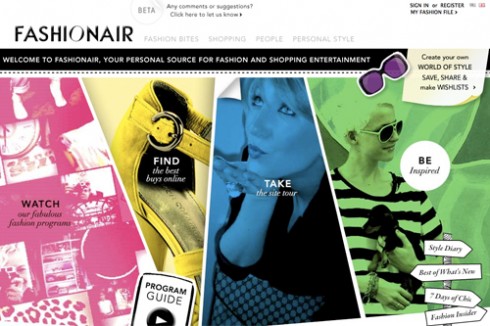 Earlier this week, Fashionair confirmed that they were shutting down due to a lack of continued funding from their parent company. I can't say I was surprised.
Launched in September 2009, just a few days before we formally launched Signature9, Fashionair captured headlines in industry and mainstream UK publications like Drapers, the Financial Times and the Guardian, and appeared on some of the largest fashion blogs. It was impossible not to see a story about the site launched by former Net-a-Porter buyer Sojin Lee, and entertainment mogul Simon Fuller.
Predictions of an audience of 22 million shopping at 500 stores around the world were included. Compared to reality television successes like Project Runway, expectations were high. And that is perhaps the biggest reason Fashionair never stood a chance.
On network television, a program that reaches 4.5 million people every week (Ugly Betty's viewership at the time of cancellation) is put on the chopping block. That's down off of premiere highs, but still 18 million people per month – not including international syndication. Online, established popular fashion sites like Style.com and Elle.com reach 1.5 million to 2 million visitors per month respectively, according to Google Ad Planner. Just the expectation of topping an internationally syndicated television show's audience, and reaching 10 times the number of people of sites that have been around for more than a decade doomed the site to fail from the start.
But was it a failure on the part of Fashionair or investors? Probably a little of both. From the outside in, fashion is huge – the numbers always point to a multi-billion dollar industry spanning multiple countries around the world. Surely, if people are spending that type of money on clothes and beauty products and "it" bags, there must be an enormous audience for fashion programming. In theory, it makes sense – however reality is not the same as theory.
The fashion audience that is interested in who the face of a label is, or the designer of the dress an actress wore to a premiere, or what's in a socialite's closet simply isn't as large as many people would like to believe. Offline, Vogue's print circulation is around 1.2 million readers and Elle's is just over 1.1 million. If fashion's longest running and most popular publications haven't been able to get past 3 million combined print and online readers, why the unreasonable pressure on a startup to do just that? Even Net-a-Porter, Sojin's former employer, got 10 years to amass their current audience of 2.2 million visitors per month. Fashionair, while nowhere near 2.2 million visitors (Google AdPlanner has them around 32,000) didn't even get 10 months.
That's not to say Fashionair wasn't without fault – the heavy amount of Flash content wasn't always the easiest to navigate, the delineation between shoppable content and media could have been more clear. It lacked the simplicity and clarity of concept needed to take it beyond an audience of fashion insiders (and wannabe insiders). Overall though, Fashionair fell victim to their own hype.
Simply put, online fashion media needs to get comfortable with the fact that they're in a qualitative, not quantitative space. That means putting an end to fake traffic numbers both from the publisher and media side; it means taking 10 minutes to look at what established companies in the space have achieved when setting benchmarks and goals (internally and publicly); and it means recognizing that designer fashion on its own is simply not the mass market draw that music, television or film are – even when you tap into the star power of entertainers. A bit of ego for a startup who thinks they'll be the exception is healthy, but expectations based on the fantasy of immediate internet success can be deadly.