Emma Watson Gets Ethical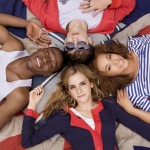 Emma Watson, of the beloved Harry Potter films, has collaborated with People Tree, the ethical fair trade and organic clothing company, on its 2010 spring collection.
This is no Lindsay Lohan/Emanuel Ungaro debacle, but instead is an honest utilization of celebrity status for a worthy cause. Watson said, "I wanted to help People Tree produce a younger range because I was excited by the idea of using fashion as a tool to alleviate poverty and knew it was something I could help make a difference with."
Watson will serve as creative adviser for the line, comprising 26 women's styles and 15 for men, plus a small accessories range. The collection has been described by People Tree as "clean, sexy and easy to wear" and will enter stores late February 2010.
People Tree produces 100% organic fair trade certified cotton garments integrating methods of hand-knitting, hand-weaving and embroidery which employs struggling families in India, Bangladesh and Nepal. This is fashion you'll not only feel good wearing, but will make the buying experience a lot less painful.
Read the full story {Telegraph UK}