Hot Tranny Best: Anna Wintour, Grace Coddington and Tavi Done In Drag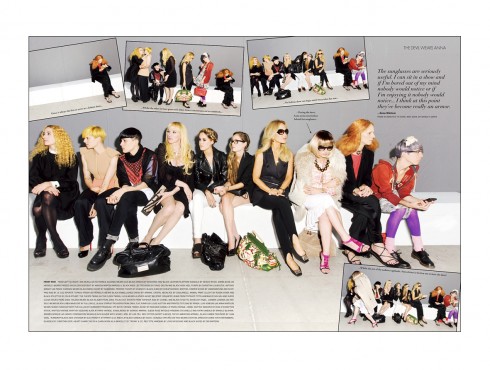 Racked spotted this editorial titled The Devil Wears Anna on Frockwriter and we had to share. Originally appearing in one of the first issues of transversal magazine Candy, this is the type of wig and makeup show that demonstrates a bit of originality. Ahem, Kanye West Monster maker, take note.
We think they're dolls (or good candidates, at least), but drag versions of Vogue Italia editor Franca Sozzani sitting next to Anna Wintour, Grace Coddington and Tavi Gevinson are pretty fun too. Have to say that there's one glittery blog star missing from the lineup though: how do you do a tranny tribute and not include one paying homage to Bryan Boy? That aside, there's something about seeing a version of Anna Wintour with hairy arms that's endearing.
View more photos from the editorial at Frockwriter.