IMG May Have Lincoln Center, but MAC & Milk Have the Internet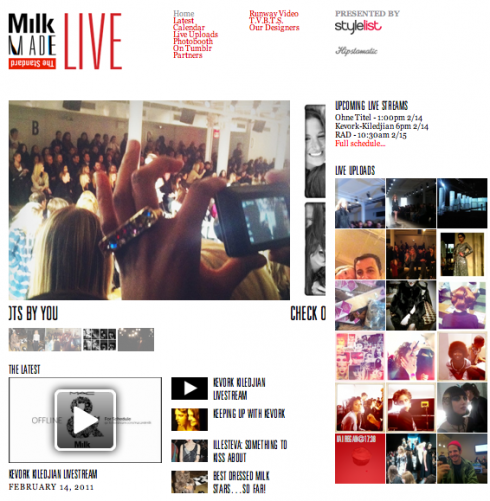 The big fashion venue news last season was IMG moving New York Fashion Week from the tents at Bryant Park to more upscale, uptown Lincoln Center. While fashion editors and bloggers were developing the playbook for navigating the new location, MAC Â and Milk Studios have been making their play for unofficial venue of the fashion new school.
It's not just the designers with the dressed down cool aesthetic like Alexander Wang, or rising stars like Sophie Theallet though; the open embrace of the fashion tech set is a large part of how the fashion week schedule at Milk Studio has risen to take on the tents.
Jennine Jacob's twice-a-year Evolving Influence conference kicked things off, and a combination of video, blogs and tweets have propelled it forward as the closest thing to an Internet Fashion Week that we've seen so far.
Milk Made LIVE is a collaboration between M.A.C. Cosmetics, Milk Studios and The Standard, New York that brings video from Livestream, notes from Tumblr and brief quips from Twitter together in one online place for those who can't make it to New York or just want to participate by proxy.
In the past four days since it went live, the Tumblr-based site has generated:
8,500 notes (reblogs and likes)
Approximately 900,000 note impressions
80,000 page views
9,000 unique viewers and 280,000 viewer minutes for Alexander Wang and Altuzarra's livestreamed shows alone
Tumblr has openly committed to focusing on the fashion content that drives a significant portion of its traffic, and the response to Milk Made seems to confirm the wisdom of that decision.
Of course we're far past the point where social media as part of Fashion Week is new, but the concerted effort to centralize the responses and interaction for an always on Fashion Week destination feels fresh. More important, for designers who can sometimes struggle with how to make those interactions work at an individual level, it's a value add that the tents don't have.
Part of that comes from the approach. For IMG, any publicity – including livestreaming or a social strategy – are completely left to the designer. For brands that operate through a tightly controlled PR machine, that's actually a huge "pro," so it's not something everyone will see as a problem. For medium and smaller labels though, the collective extra effort towards online and social promotion that MAC and Milk offer could easily be an advantage that sees a further shift in the lineup of both locations.
Whether it's from the front row or in front of a computer screen, we'll be watching.