Is This the Dress That Raised Oscar de la Renta's Ire With Michelle Obama?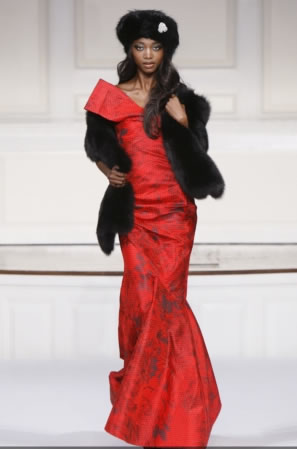 So by now, you've likely heard Oscar de la Renta's criticism that Michelle Obama's Alexander McQueen dress was inappropriate for a state dinner, due to the fact that it was neither from an American or Chinese designer.
While many – us included – think that the criticism was unwarranted in a fashion age where designed in America rarely means made in America, could the designer's frustration stem from a similar dress of his own?
Compare this dress, from de la Renta's Fall 2010 collection, to the red McQueen gown worn by Mrs. Obama. If you zoom in on the de la Renta dress, you'll notice small black dots, but otherwise the color and print seem similar to the McQueen gown the First Lady chose.
While this wasn't the first time de la Renta has snipped at Obama's sartorial choices, it's hardly the first time that she's worn a non-American designer to an American event either.We still think the McQueen gown was both appropriate and flattering, but perhaps seeing a gown with so many similarities at such a highly publicized event was why this particular look struck such a nerve with the designer, who has yet to make it into Mrs. Obama's wardrobe.