Karl Dynasty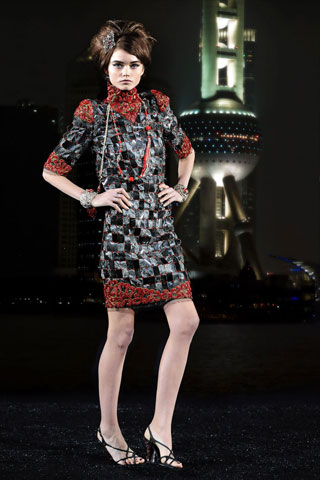 Fashion's umber-active mind, Karl Lagerfeld, took us on a fantastically imaginative (and financially sound) turn in Shanghai last week with his latest Chanel pre-fall 2010 collection. With the iconic Shanghai TV-tower as the backdrop, Lagerfeld presented a stunning collection rich with Shinto-Franco sartorial cultural exchanges. Based on a fictional dream of Coco Chanel time-traveling through Shanghai's golden eras, a 'la Alice in Wonderland, Lagerfeld even made a short film as a prelude to the occasion, complete with historical characters real and imagined played hilariously by his entourage, that was dramatically acted out over Huangpu River.
The real stars of the show, however, were the clothes: classic Chanel tweed suits received the traditional Chinese sartorial treatment based on cheongsam and qipao, juxtaposed with Last Emperor-worthy gold brocade; armor-like shingle embroideries adorned dresses and outerwear evocative of the terra-cotta army. Who knew that the famous Chanel quilted handbag was inspired by Chanel's love of Chinoserie? Of interest were also this season's popular thigh-high boots being made art-worthy to resemble exquisite Chinese porcelain vases and carved redwood furnitures. Certainly, the collection wouldn't be fitting a Chinoserie-inspired one without a nod to the face of China, Chairman Mao, who, luckily, only reappeared in spirit in a pair of military green his and hers Mao tweed suits and comrade caps.
Lagerfeld definitely scored Chanel an epic victory of dynastic proportion with this latest audience-minded collection. The famous interlocking C's (Chanel and China in this case?) might not be flying atop the Imperial Palace, but a Karl dynasty in the Imperial Kingdom might not be a far-fetched reality: Chanel is staking its capital strategically with a new store in Shanghai's nexus of consumerism that is the Bund, further stoking the appetite and loyalty of a nation that is fast on Japan's heels to take over the title of the world's next biggest luxury consumer market.
Read the full story {Style.com}