Lara Stone's New Campaign for Calvin Klein Is Less Impressive Than Her Last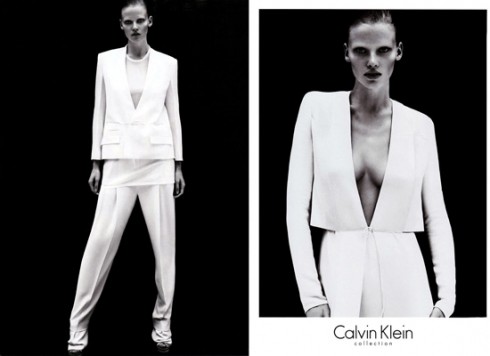 Calvin Klein sure does love Lara Stone. Their fall 2010 ad campaign that featured the Dutch beauty marked the first time in years the label used one face for all three of its brands, and Stone exclusively closed the label's spring 2011 show. Now, photos of the latest Calvin Klein ads featuring Stone have been released. {Modelina via The Cut}
Mert Alas and Marcus Piggott shot the photos for the new campaign, and while Stone's fall 2010 ad pictures were stunning, we have to say we're less than impressed with the new shots. Stone's face looks absolutely beautiful, as always, and we love the black and white effect that nearly erases her hair, but the model should not be the main focus of a fashion ad. The clothes should be, and we're not sold on the outfit because what Lara is wearing looks like it does not fit her. The pants in the left photo appear to be way too long and loose in the upper inseam, and the white jacket's sleeves are too short. And is that a skirt she's wearing over the pants?
Dare we say, Christina Binkley seems to be on to something in her suggestion that less tailored, poorly fitting clothes are foisted upon women under the guise of being on trend?
Perhaps Calvin Klein was going for this look on purpose, and Stone's stunning face does help make up for it. We would've liked to see more photos like the fall 2010 ones, and clothes that aren't wearing the model though.