Long Live Couture!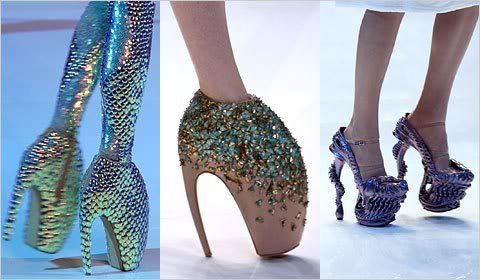 Remember these magnificent alien/mermaid McQueen shoes?
Of course you do, and if you're like us you're still fantasizing about how to get your mitts on these incredible lobster-claw/satyr-hoof/sea-monster concoctions so you can stop traffic every week in the cereal aisle. (Imagine never needing help reaching the top shelf ever again!)
To the surprise of … well, everyone, Alexander McQueen has actually been getting countless calls from women (besides Lady Gaga) absolutely coveting these works of art and wanting to know how they can get them into their closets. No official word yet on how McQueen will be distributing runway samples to the few lucky ladies, but tentative plans point to auction-style distribution.
Read the full story {Grazia}