Net-a-Porter Live Offers a Voyeuristic Real Time Fashion Fix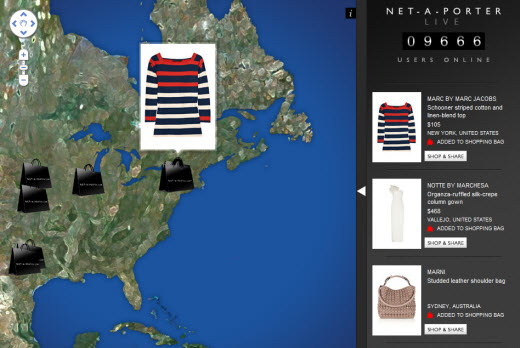 Have you ever wondered what other people are looking at while you're looking at clothes online? Okay, we haven't either, but Net-a-Porter Live does exactly that and the result is equivalent to online fashion crack.
Net-a-Porter has been doing a lot of innovative things for a while. Branded content? Everyone from LVMH to Dolce & Gabbana and Diet Coke have gotten on board recently, and online advertising stats indicate that it's a growing category. Net-a-Porter's been pushing content as a commerce driver for the 10 years that they've been around. Whether it's the iPhone or iPad, you can count on Net-a-Porter to be one of the first fashion brands there, and usually with an app that's far more engaging than those on offer from full time media companies. In other words, it probably shouldn't come as too much of a surprise that Net-a-Porter is the company behind a  real time, location based e-commerce offering that's actually really interesting.
In real time, you can see how many people around the world are browsing the site with you, and what they're adding to their carts, wishlists or sharing through social media and e-mail. It's the type of thing that you can't look away from, even if you weren't really looking for anything. We'd imagine that for anyone on the fence about an item, it can also be a gentle nudge of peer pressure to grab an item before someone else walks away with it.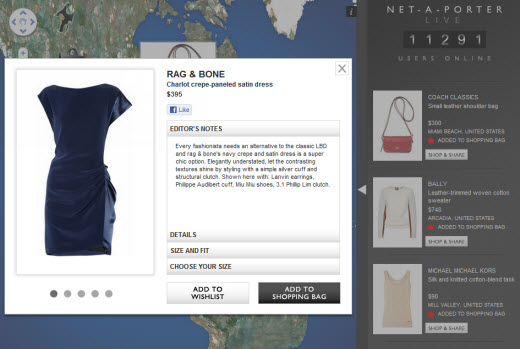 If something catches your eye, clicking on the image brings up a perfectly integrated box where you can order it, add it to a wishlist or Like it to get the word out on Facebook.
Without being more deeply integrated with a merchant, it's hard to tell what people are actually buying from a site, but our first thought looking at this was that if Boutiques had done something along this path, they might not be headed for the deadpool. With Facebook likes being the only public piece of data, a 3rd party mashup with multiple merchants wouldn't look exactly the same, but in our data driven fashion fantasies the social fashion data from EDITD could power something similarly great.
Regardless of how others may pick up on it, we've already lost time, um, researching this and we're pretty sure it will keep a few other people browsing longer and potentially buying more.